Acorn TV has set the premiere date for Season 2 of the terrific mystery-crime drama series Whitstable Pearl, starring Kerry Godliman. Hooray!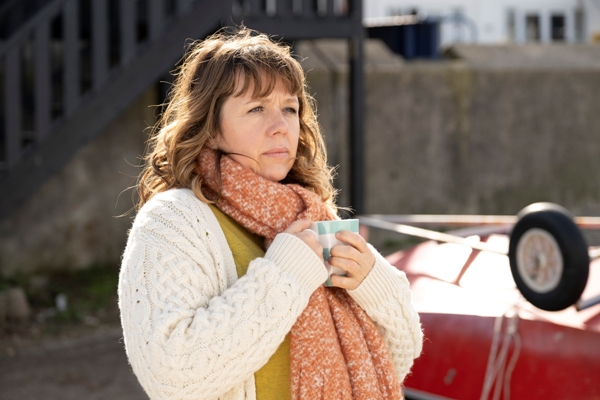 As you can probably tell, I really enjoyed Season 1 of Whitstable Pearl, and I'm thrilled the second season is arriving soon!
Whitstable Pearl, an Acorn TV Original, premieres in the US with its first two episodes on Monday, November 28, exclusively on Acorn TV. New episodes will debut in pairs through December 12.
For folks who aren't familiar with the show, it's based on the series of "Whitstable Pearl Mysteries" novels by Julie Wassmer. It stars Kerry Godliman (After Life, Trigger Point, Save Me) as Pearl Nolan, a kind and caring restaurant owner and private detective in the picture-postcard English seaside town of Whitstable. Newly-arrived in Whitstable is DCI Mike McGuire (Howard Charles, Shadow and Bone, Top Boy, The Musketeers), the new police chief in Kent who transferred from London in a bid to escape his past. After meeting, the two clash over the accident-or-murder death of Pearl's friend, but later become unofficial partners of sorts and solve several murder mysteries together.
Season 2 opens six months after the Season 1 finale. Pearl is now prioritizing her detective work, making the transition from being a restaurateur who solves crimes to being a full-time investigator who happens to own a restaurant. As Pearl's cases overlap with Mike's police investigations, their relationship gets charged by their mutual determination to outdo each other.
The first whodunit sees Pearl and Mike teaming up to find the young son of an ex-soldier, who's gone missing under dodgy circumstances.
In the second episode, there's an interesting turn of events: Mike, who's broken his ankle, hires Pearl to investigate a suspicion that he has. While laid up at home, he's been disturbed by the tenant living in the flat opposite his. On the surface, it seems the man suffers from violent night terrors. But Mike becomes convinced that the guy is using the night terrors as a cover for his plan to murder his wife. After the police find no evidence to support this, Pearl takes on Mike's case and soon discovers a body. The thing is, it isn't the person she and Mike were expecting…
Returning cast members include Sophia Del Pizzo (Shelley) as DS Nikki Martel, Isobelle Molloy (Maleficent) as Ruby, Rohan Nedd (Harry Wild) as Pearl's son, Charlie, and Frances Barber (The Chelsea Detective) as her mum, Dolly.
Remember: Whitstable Pearl, Season 2, November 28.
__________________
As an affiliate of Amazon and other companies, ads & affiliate links on this blog allow us to earn income from qualifying actions and purchases (at no extra cost to you).

Whitstable Pearl: Acorn TV Sets Premiere Date for Season 2 of Terrific Mystery Series