It's never too early to get your Halloween horror groove on, so if you haven't kicked it off already, check out Hulu's Matriarch.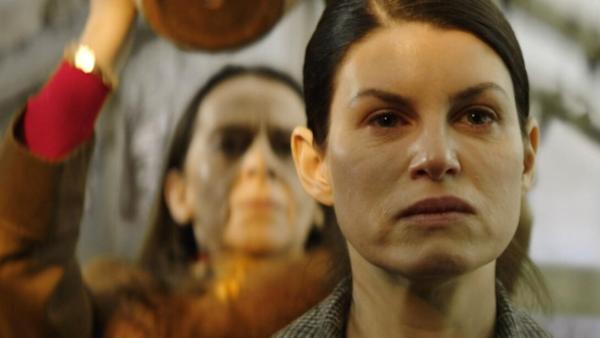 Horror is not at the top of my list of favorite genres. I don't watch slasher anything or stuff with killer dolls (unless it's that great Twilight Zone episode with Telly Savalas), but I do enjoy stories that make me wonder about what the heck is really going on while making me feel increasingly uncomfortable at the same time, like The Others and The Wicker Man.
And it is the original 1973 version of The Wicker Man that I was reminded of while watching the new Hulu Original film Matriarch. They have some key story elements in common, but deliver them differently.
Leading the cast of Matriarch are Jemima Rooper (Lost in Austen, The Girlfriend Experience, Gold Digger) and Kate Dickie (Game of Thrones, Annika, Inside Man), with Franc Ashman (I May Destroy You), Keith David Bartlett, Nick Haverson (Scott & Bailey), Simon Meacock (Fantastic Beasts: The Crimes of Grindelwald), and Sarah Paul (EastEnders) also featuring in the film.
The story follows Laura (Jemima Rooper), an advertising professional whose demons of addiction and an eating order, as well as a massive chip on her shoulder, are her methods for dealing with the incessant wretchedness she feels. After collapsing from an overdose in her flat, she is somehow saved by a mysterious substance.
Is it a coincidence, then, that Laura's estranged mum, Celia (Kate Dickie), calls her soon afterward, or do mothers really have a sixth sense and know when their children, in another city, are in distress? Either way, Laura ignores her until she doesn't, and then takes up Celia's offer of staying with her in Moorlinch Greinton after a twenty year absence from Laura's childhood home and mother. Theirs is a tense reunion, and it isn't long before Laura storms out of the house.
Although Laura survived the overdose, she is now afflicted with a mysterious disease whose symptoms are frightening. Meanwhile, Celia, who is suffering from symptoms of her own, is up to something, and she's got other villagers conspiring with her. But for what? The clues are there, but Laura runs right past them. The priest knows there's "something against God" going on in Moorlinch Greinton and he wants it stopped pronto, but he holds no sway here.
When Laura discovers what that something is, a secret that many of the villagers, including her mother, have held close to the chest for decades, she is horrified. And her living nightmare doesn't end with that knowledge — especially as she knows that her life, her fate, is inextricably tied to all of it.
Casting director Rob Kelly was spot on in getting Kate Dickie for the character of Celia, and I can't imagine anyone else playing the super creepy woman. (Dickie's Celia makes her Lysa Arryns character on Game of Thrones look positively well-adjusted.) Jemima Rooper, too, was a good call; her Laura is (intentionally) all over the place — from an anger-prone woman trying to keep herself together, to a childlike daughter recalling the abuses she suffered, to a terrified human being fighting for her mortal life.
Which leads me to salvation, which takes on a whole new meaning in Matriarch. Definitely not the kind of deliverance the priest means, it is directly related to the mystery aspect of the story. Even though I saw the clues that Laura missed, I still didn't expect what I learned to be the truth of what was going on with the villagers. But I must say, as twisted as it was, there is a certain rhyme and reason to it.
The film is creepy and disturbing, and I found a couple of scenes to be a bit icky, but I quite enjoyed Matriarch and am grateful that I didn't feel the need to sleep with the lights on after watching it (which I can't say for The Shining or The Sixth Sense).
Matriarch, a Hulu Original, premieres today, Friday, October 21, exclusively on Hulu.
Written and directed by Ben Steiner (Urn), the film is produced by Ian Sharp and Eoin O'Faolain, with Alexa Waugh as co-producer. The executive producers include David Worthen Brooks, Arbi Pedrossian, and Jenna Cavelle.
__________________
As an affiliate of Amazon and other companies, ads & affiliate links on this blog allow us to earn income from qualifying actions and purchases (at no extra cost to you).

Matriarch: Hulu's Horror Film Is a Creepy Mystery Story