Netflix has announced the release dates for The Wonder, the new period drama-psychological thriller feature starring Florence Pugh. Check out the trailer.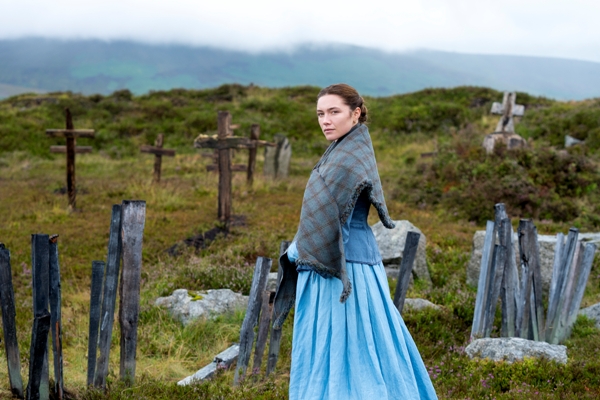 Adapted from Emma Donoghue's acclaimed novel of the same name, The Wonder, a Best Film nominee at the 2022 San Sebastián International Film Festival, is directed by Berlin International Film Festival winner Sebastián Lelio (A Fantastic Woman) and stars Oscar® nominee Florence Pugh (Little Women, Midsommar, Don't Worry Darling).
The Wonder, a Netflix Film, has its theatrical release in the US in select cinemas on Wednesday, November 2. It launches on the streaming service on Wednesday, November 16. (You can set a reminder for it now.)
The cast also includes Tom Burke (C.B. Strike), Niamh Algar (Deceit), Elaine Cassidy (No Offence), Toby Jones (The Girl), Ciarán Hinds (Game of Thrones), Dermot Crowley (Luther), Brían F. O'Byrne (Manhunt), and David Wilmot (Ripper Street).
The film is inspired by the 19th-century phenomenon of the "fasting girls" — preadolescent girls who claimed they could survive for long periods of time (weeks and months) without consuming food — which was regarded by religious believers of that time as a miracle (and by contemporary historian Joan Jacobs Brumberg as an early example of anorexia).
Set in 1862, the story follows Lib Wright (Florence Pugh), an English Nightingale Nurse who had tended soldiers in the Crimean War. She travels alone to Ireland, a land still traumatized by the Great Famine of 1845-1849 — brought to the Irish Midlands by representatives of a devout community in order to conduct a two-week examination of one of their own: Anna O'Donnell (Kíla Lord Cassidy, Viewpoint), an 11-year-old girl who is said to have not eaten for four months, surviving miraculously on what she claims is "manna from heaven."
A second nurse, Sister Michael (Josie Walker, This Is Going to Hurt), has also been hired to watch Anna over the same period, working in alternating eight-hour shifts with Lib to determine if the supposed miracle is authentic or a hoax. At the end of the two weeks, both nurses will report their findings to a committee made up of publican Sean Ryan (David Wilmot), Father Thaddeus (Ciarán Hinds), Doctor McBrearty (Toby Jones), landowner John Flynn (Brian F. O'Byrne), and Baronet Sir Ottway (Dermot Crowley).
Soon Anna's health begins to deteriorate rapidly, causing Lib to be even more determined in unearthing the truth, as well as in challenging the faith of a community that would prefer to stay believing.
The Wonder is written by Alice Birch (Normal People) and Sebastián Lelio, and produced by Tessa Ross (Sherwood), Juliette Howell (Brexit: The Uncivil War), Ed Guiney (Dublin Murders), and Andrew Lowe (Ripper Street).
__________________
As an affiliate of Amazon and other companies, ads & affiliate links on this blog allow us to earn income from qualifying actions and purchases (at no extra cost to you).

The Wonder: Netflix Sets Release Dates for New Psychological Thriller