Sherwood, a layered, character-driven crime thriller from award-winning writer James Graham, premieres in North America today — and it is definitely worth watching.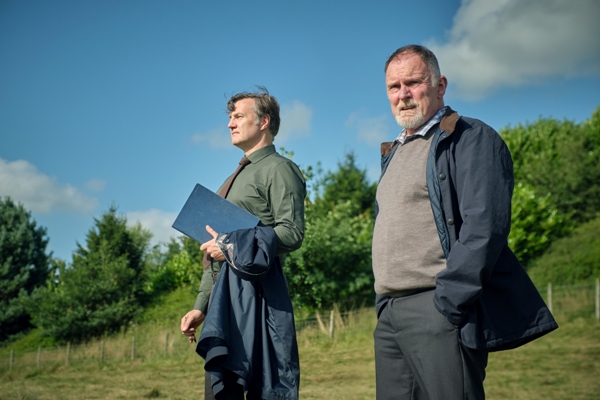 Primetime Emmy® and BAFTA TV Award nominee James Graham (Brexit: The Uncivil War, Quiz) grew up in a mining village in Nottinghamshire, and it is here that he sets the fictional crime thriller story of Sherwood, which "was initially inspired by two killings which took place" in this community.
From the off, we get that Sherwood is going to be more than your average drama, starting with the archival photos and video footage that inform us that we're heading into territory where emotions ran very high and still do. This is followed by vignettes that introduce us to the central characters, most of whom have long histories with each other — from neighbors who have despised each other for nearly 40 years, to siblings who have all but disowned each other for equally as long — which can be traced back to the fateful year of 1984, when miners went on strike and fellow villagers crossed the picket line. Then there are the younger locals who weren't actively a part of that piece of history, but whose lives have been shaped by the bitter politics of that time and are guided by those of the present.
Looked at from another perspective, we get the sense that Sherwood definitely is going to be a cut above the rest by virtue of one top-notch British actor after another showing up on screen. It takes something special for so many of them to appear in one series (that isn't Death in Paradise). In the first episode alone we have (in order of appearance) Joanne Froggatt (Downton Abbey), Alun Armstrong (New Tricks), David Morrissey (The Walking Dead), Lesley Manville (Mum), Claire Rushbrook (Whitechapel), Kevin Doyle (Happy Valley), Philip Jackson (Agatha Christie's Poirot), Lorraine Ashbourne (Bridgerton), Adeel Akhtar (River), and Robert Glenister (Hustle), amongst others.
A sense of foreboding permeates the entire six-episode first season before any crime has even been committed. And when it does happen, there is no feeling of release or relief; we just know there is more bad stuff coming.
Before this, though, there is a wedding that counts DCS Ian St Clair (David Morrissey) and trade unionist Gary Jackson (Alun Armstrong) and his wife, Julie (Lesley Manville), amongst the guests celebrating the young couple's happy occasion. Elsewhere in the village, Fred Rowley (Kevin Doyle) and his wife, Cathy (Claire Rushbrook), aren't feeling festive at all; they're anxious because their son is going to prison. Very soon thereafter, a man is murdered, prompting St Clair (pronounced Sinclair, not Saint Clair) to contact DI Kevin Salisbury (Robert Glenister) of the London Metropolitan Police for information.
So begins the tentative partnership between the local copper and the Met detective, who have an uncomfortable history with each other that goes back to 1984. Arrests for the homicide are made, and an arrest warrant is issued for another suspect, but the case gets complicated when St Clair and Salisbury learn details about a rumor that has persisted amongst some of the locals, especially the victim: that a spy has been living in the village since the mid-'80s.
It seems that everyone here, or nearly everyone, has a secret they want or need to remain hidden or a skeleton in the closet that haunts them. As the saying goes, the truth will out. And so it is with the murderer: We, the audience, realize who it is.
Then another person is killed, an event which, when added to the murder and other recent attacks, causes the villagers to be even more wary of each other, to renew their deep distrust of the police, and to live in constant fear. Members of the local police force are not immune from suspecting those around them, either. What the cops know for sure is, the sooner they capture the murderer, the better.
Which leaves: Who is the spy, if there is one here? And how do they connect to the killings?
If Sherwood were to have a tagline, one could be, "Come for the crime, stay for the characters." Because these threads — of a cop who puts his job above everything else, of another cop whose career is all but over, of a widow whose family was torn apart by the strike, of a widower who sees the past through rose-colored glasses, of a family whose relationship with the killer could make them the next target(s), and of a murderer whose motive proves to be maddening — are the stories that are gripping and call for binge-watching. The history of the 1984 miners' strike and its aftermath, entangled with the killings in the present day, are brought to life by them. The historic anger on both sides is palpable, as is the fear caused by the fatal, near-fatal, and panic-inducing attacks on people, property, and more. As for the crimes, because we do realize who the killer is, our interest isn't so much figuring out a whodunit but in following the crime spree and getting to the whydunit of it all.
(Me, I binged Season 1 in one-episode and five-episode sessions; it would've been the entire season in one go had I not started so late the first night, so invested was I in the characters and what they were all going through, as well as what the heck the killer was going to do next and why.)
The stellar first season cast includes Mark Addy (Game of Thrones), Ace Bhatti (Alex Rider), Lindsay Duncan (A Discovery of Witches), Hazel Ellerby (The Bay), Perry Fitzpatrick (Line of Duty), Sean Gilder (Shameless), Bally Gill (Slow Horses), Chloe Harris (The Ipcress File), Clare Holman (Inspector Lewis), Adam Hugill (The Watch), Andrea Lowe (DCI Banks), Nadine Marshall (Save Me), Terence Maynard (The Witcher), Safia Oakley-Green (The Burning Girls), Phaldut Sharma (EastEnders), Stephen Tompkinson (DCI Banks), and Pip Torrens (Preacher).
Sherwood: Season 1, a BritBox Original, premieres in North America today, Tuesday, October 4, exclusively on BritBox.
__________________
As an affiliate of Amazon and other companies, ads & affiliate links on this blog allow us to earn income from qualifying actions and purchases (at no extra cost to you).

Sherwood: Crime Thriller Inspired by Real Events Is Utterly Gripping