Inside Man, the new drama thriller miniseries starring David Tennant and Stanley Tucci, finally has a release date on Netflix.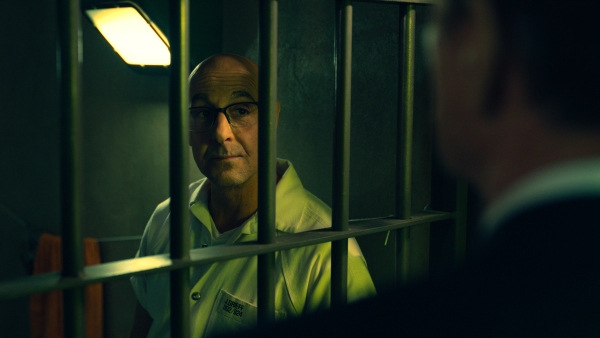 The Wonder: Florence Pugh as Lib Wright — Photo by Christopher Barr / Netflix
Created and written by Steven Moffat (Sherlock, Doctor Who), Inside Man is a four-part thriller that follows four people as they cross paths in the most unexpected way.
Inside Man, a Netflix Series, premieres globally outside the UK and Ireland on Monday, October 31, exclusively on Netflix. (You can set a reminder for it now.)
(For viewers in the UK, the miniseries is available for streaming on BBC iPlayer.)
Jefferson Grieff (Stanley Tucci, The Lovely Bones, Stanley Tucci: Searching for Italy), a prisoner on death row in the US, is seeking atonement as he faces execution. On a train in England, journalist Beth Davenport (Lydia West, It's a Sin, Years and Years) is looking for a story. And in a quiet little village, Janice Fife (Dolly Wells, The Outlaws, Dracula), math tutor to the son of Rev. Harry Watling (David Tennant, Des, Doctor Who), is trapped in a cellar.
All four of these people will be entangled in a dilemma that could lead one of them to murder…
Additional cast members include Eke Chukwu (War Horse), Lyndsey Marshal (Agatha and the Curse of Ishtar), Louis Oliver (Midnight Mass), Atkins Estimond (Lodge 49), Dylan Baker (The Good Wife), Kate Dickie (Game of Thrones), and Boo Golding (Grace).
A production of Hartswood Films for BBC One and Netflix, Inside Man is directed by Paul McGuigan (Sherlock, Film Stars Don't Die In Liverpool), produced by Alex Mercer (The Durrells in Corfu, Broadchurch), and executive produced by Sue Vertue (Sherlock, The Devil's Hour) for Hartswood Films and Ben Irving for the BBC, with Chris Sussman overseeing for Netflix.
__________________
As an affiliate of Amazon and other companies, ads & affiliate links on this blog allow us to earn income from qualifying actions and purchases (at no extra cost to you).

Inside Man: Netflix Sets Premiere Date for Drama Thriller Miniseries