BritBox announced today that Jamie's One-Pan Wonders will premiere in the US next month and top-line the launch of the streamer's cooking collection.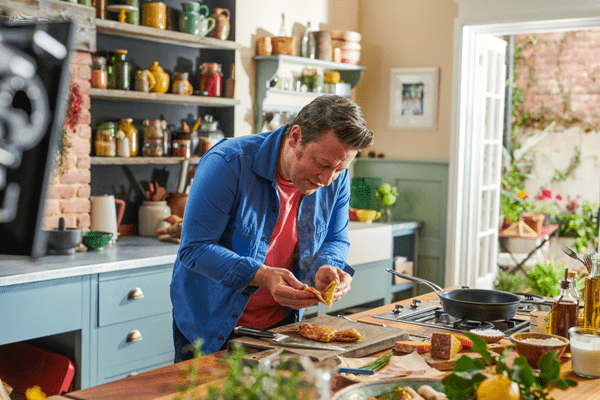 Nearly every cookery series presented by celeb chef, restaurateur, and cookbook author Jamie Oliver that has been shown in the US, I have watched, enjoyed, and learned from. So it's basically a given that I will be tuning in for his newest series, Jamie's One Pan Wonders, when it premieres in the US exclusively on BritBox on Friday, November 18.
Jamie's One Pan Wonders — the ultimate guide to making brilliantly easy and delicious meals all cooked in just one pan, pot, or dish (and which has One as its companion cookbook) — will top-line the BritBox Cooking Collection, which launches on the same date. This collection features series from celebrated personalities of British cuisine and TV chefs, including multi-Michelin-starred chef Gordon Ramsay, Author of the Year and television chef Nigella Lawson, the first "celebrity chef" Marco Pierre White, and The Great British Bake Off winner Nadiya Hussain.
Others of Jamie Oliver's series that will also be in the collection are: Jamie and Jimmy's Food Fight Club, in which childhood friends Jamie Oliver and BBC presenter Jimmy Doherty (Food Unwrapped) team up to make weekend feasts with special celebrity guests, including Gwyneth Paltrow, Kate Hudson, Orlando Bloom, David Tennant, Martin Freeman, and others; Jamie Oliver: Together, which centers on dishes meant to be shared with loved ones; Jamie's Festive Feast, in which Jamie applies the principles of fast and easy cooking to holiday favorites; and Jamie's Quick & Easy, another of Jamie's signature series, in which he offers fast and easy-to-make recipes for viewers.
A "best of" collection from the British cultural phenomenon Come Dine with Me will also be a part of the BritBox Cooking Collection. This popular, long-running series (more than 560 episodes since 2005) features dinner party guests cooking for each other at their respective homes and then judging each others' food and hosting skills on their taxi ride home. The highest-scoring chef wins £1,000.
The full list of titles in the BritBox Cooking Collection, launching November 18, is below. Programs will be available in both the US and Canada, unless noted otherwise.
Come Dine with Me — See above.
Cooking Up a Fortune — Hosted by food market entrepreneur Dominic Cools-Lartigue, this show features amateur cooks who dream of starting their own food business competing to sell their homemade dishes to the British public. Whoever survives the heats and triumphs will be given the chance to launch their own food brand.
Culinary Genius — Hosted by Fern Britton and featuring rotating roster of chefs, including Gordon Ramsay, Rosemary Shrager and Jean-Christophe Novelli, this daytime cooking show sees nine amateur home cooks entering a culinary battle. Contestants must prepare the best meals and impress the judges in three rounds of competition, with those whose dishes are underwhelming being eliminated, until one is crowned the day's Culinary Genius.
Gordon Ramsay: Cookalong Live — Gordon Ramsay, accompanied by a celebrity guest, cooks a three-course meal live in under an hour, and encourages people to cook along at home. Guests James Corden, Alan Carr, Max Beesley, James Caan, and Mica Paris also take on Gordon Ramsay with their favorite recipes.
Gordon Ramsay's Home Cookery Course — In this series, Gordon Ramsay shows you everything you've ever wanted to know about cooking but have always been afraid to ask. The series is all about giving home cooks the desire, confidence, and inspiration to hit the stoves and get cooking. (Companion cookbook)
Gordon's Ultimate Home Cooking — Here Gordon Ramsay presents healthy, high-quality, easy-to-make meals for viewers to create and enjoy themselves. Each episode's recipes are centered around a theme, including modern versions of foods Ramsay enjoyed as a child and putting modern twists on his favorite classic recipes. (Companion cookbook)
Hell's Kitchen (UK version) (Canada Only) — This is the original version of the reality-competition series that the US version is based on.
Jamie and Jimmy's Food Fight Club (US Only) — See above.
Jamie's Festive Feast (US Only) — See above.
Marco Pierre White's The Chopping Block — In this reality-competitions series hosted by Chef Marco Pierre White, chefs are tested in a series of challenges for a shot at the grand prize: opening their very own Manhattan restaurant.
Marco's Kitchen Burnout — Chef Marco Pierre White presents this tough celebrity cooking challenge, in which the pressure is relentless as twelve celebrities cook for diners in a professional kitchen, casting teamwork aside in favor of cut-throat competition, strategy, and talent.
Nadiya's Family Favourites (US Only) — In this series, Nadiya Hussain creates her family's favorite dishes and meets some of Britain's most inspiring home cooks along the way. (Companion cookbook)
Nadiya's Party Feasts (US Only) — Nadiya Hussain is throwing a celebration, and everyone is invited. With the party season fast approaching, Nadiya is sharing her favorite festive dishes that fill the table with vibrant color, amazing aromas and fantastic flavors. (Companion cookbook)
Nigella: Cook, Eat, Repeat (US only) — Television cook and food writer Nigella Lawson presents this series, in which she creates a visual feast of heartwarming dishes while remaining socially distant. (Companion cookbook)
Rachel Allen's Dinner Parties — Irish chef Rachel Allen shows a dinner party host how to create the perfect evening with the most delicious meals to impress guests.
Ramsay's Boiling Point — This show follows Chef Ramsay during eight of the most intense months of his life, as he opens his first and now flagship restaurant, Restaurant Gordon Ramsay, in September 1998, and participates in the dinner made at the Palace of Versailles to celebrate the closing of the 1998 World Cup.
Ramsay's Kitchen Nightmares — Chef Gordon Ramsay hits the road in search of restaurants in crisis, doling out tough love and harsh truths in his inimitable fashion as he addresses some of the most stressful aspects of running a successful food business.
Simply Nigella (US Only) — Here Nigella Lawson shares inspired recipes to improve one's well-being and lifestyle, and gives her top tips on time-saving cooking methods. (Companion cookbook)
__________________
As an affiliate of Amazon and other companies, ads & affiliate links on this blog allow us to earn income from qualifying actions and purchases (at no extra cost to you).

Jamie's One-Pan Wonders: New Cookery Series Top-Lines BritBox Cooking Collection