Karen Pirie, the new BritBox Original Scottish mystery-crime drama series, is gripping from start to finish, and it premieres in North America tomorrow.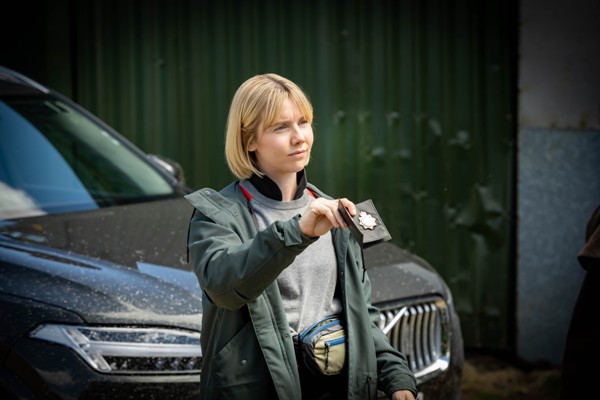 Every time there is a new series, whether it's a comedy or a crime drama, one always hopes for the best. Sometimes one is disappointed, whether by a convoluted story or lackluster performances; other times we are pleased as punch. Count Karen Pirie in the latter grouping, because it is terrific all around.
Consisting of three feature-length episodes, this Tartan noir series is based on celebrated Scottish crime writer Val McDermid's best-selling series of "Karen Pirie" novels, and stars Lauren Lyle (Outlander, Broken) as the titular detective, DS Karen Pirie, a brilliant young Scottish copper with a quick mouth, a fanny pack, and a tenacious desire for the truth.
Adapted from the first "Karen Pirie" novel, The Distant Echo, by series costar Emer Kenny (Father Brown), the story follows the investigation into a cold murder case, told across the time lines of 1996, when the crime occurred, and the present day.
The unsolved homicide case is reopened because the true-crime podcast Echoes: The Rosie Duff Case is causing the Fife division of the Police Service of Scotland a major headache. To combat the bad publicity and hopefully get the case solved after a quarter-century, the powers that be promote DS Karen Pirie to lead the review. Her team consists of just her and DC Jason "Mint" Murray (Chris Jenks, Sex Education), a solid, health-conscious young cop.
The only known facts in the case are these: Uni students and mates Alex, Tom (aka "Weird"), and Ziggy went to a party on 26th June 1996, the same night that teenage barmaid Rosie left the pub to go meet someone. Several hours later, a police officer found Rosie's body in a St. Andrews graveyard, along with the young men who literally had her blood on their hands. More officers arrived and the three were arrested on suspicion of murder. Their story: They were drunk and walking home when they stumbled upon Rosie's body. The result: The three were released from custody and no charges were ever filed, as the police didn't have the evidence to do so. So now it's up to Pirie to find it.
Both the podcast and the renewed police questioning churn up fear and distress amongst Alex, Weird, and Ziggy, and reopen old wounds for Rosie's family. As Pirie and Mint delve into the case, they begin to discover things that were seemingly overlooked in the initial investigation, and learn things that could have contributed to Rosie's death. And that's not all. The detective duo team up with Pirie's longtime friend and colleague, DS Phil Parhatka (Zach Wyatt, The Witcher: Blood Origin), recently elevated to the murder squad, as he investigates a suspicious death that could be related to their cold case…
Karen Pirie is as much a riveting watch as The Distant Echo is a page-turner. (It's a great book; I highly recommend it if you haven't read it.) While some of the details in the novel have been changed in the adaptation, the story in the TV series is still a deftly-told tale of love, fear, friendship, and revenge.
Lauren Lyle is fabulous as DS Karen Pirie, imbuing the unpretentious, determined, and very likable character with an honesty and a sensitivity that are refreshing to see. She's bold enough to bend the rules when needs must, and has enough common sense to know to back down to her superiors when her job and career could be finished just like that. I like that Karen is a young woman who is clear about who she is, yet is unsure about how to handle certain things that are meaningful to her, like her relationship with Phil. I'm really hoping for another season of Karn Pirie as I'd love to see more of these two, as well as "Mint" (as in Murray Mints), the only cop character I can think of who adheres to a protein-filled diet and does burpees to stay in shape while working a case. That, and to see another of Val McDermid's awesome "Karen Pirie" stories brought to the screen, of course.
Karen Pirie, a BritBox Original, premieres in North America tomorrow, Tuesday, October 25, exclusively on BritBox.
Costars include Emer Kenny as Karen's flatmate River, Buom Tihngang (Doctor Who) and Ariyon Bakare (His Dark Materials) as Alex, Jack Hesketh (Besa) and Michael Shaeffer (Bodyguard) as Weird, Jhon Lumsden (Doctors) and Alec Newman (Shetland) as Ziggy, Kevin Mains (Shetland) and Stuart Bowman (Grantchester) as DS Jimmy/DCS James Lawson, Gilly Gilchrist (Outlander) as DI Barney MacLennan, Steve John Shepherd (EastEnders) as DI Simon Lees, Rakhee Thakrar (Sex Education) as podcaster Bel Richmond, Anna Russell-Martin (Annika) as Rosie, Daniel Portman (Game of Thrones) and Gerry Lynch (The North Water) as Rosie's brother Colin, Josh Whitelaw (Outlander) and Antony Strachan (Shetland) as her brother Brian, and Ron Donachie (Game of Thrones) as her father Archie.
__________________
As an affiliate of Amazon and other companies, ads & affiliate links on this blog allow us to earn income from qualifying actions and purchases (at no extra cost to you).

Karen Pirie: New BritBox Scottish Mystery-Crime Drama Series Is Gripping