Acorn TV has announced its latest Original mystery series, Mrs Sidhu Investigates, a production of Monumental Television and Absolutely Productions.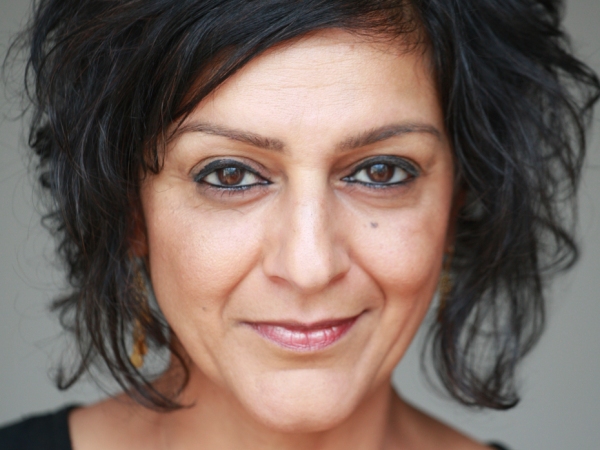 Based on and adapted by Suk Pannu (The Kumars at No. 42, Goodness Gracious Me) from his BBC Radio 4 series of the same name, Mrs Sidhu Investigates stars Meera Syal (The Kumars at No. 42, Yesterday, Anita and Me) as Mrs. Sidhu, a crime-solving Indian chef. The comedy actress and writer also voiced the eponymous character for the radio show (which I've listened to and found humorous and entertaining).
Mrs Sidhu Investigates follows Mrs. Sidhu, a high-end caterer with a taste for crime, who solves murders and other ghastly crimes amongst the affluent residents of Berkshire. A lifetime of being an "Indian auntie," invisible to the elite, has sharpened her skills as an investigator: an instinct for truth, a warmth with people, and a persistent sense of nosiness.
Recently widowed, Mrs. Sidhu juggles her new catering business with wrangling her wayward son, Tez (Gurjeet Singh, Ackley Bridge), all while serving up justice to those who believe they are above the law. Her forays into crime see her form an unofficial partnership with the world-weary DCI Burton (Craig Parkinson, Line of Duty, Grace), who reluctantly accepts that, together, they are an unbeatable crime-fighting duo, much to the bemusement of his partner, DS Mint (Naana Agyei-Ampadu, Death in Paradise).
Said Catherine Mackin, Managing Director, Acorn Media Enterprises:
"Adapting Suk Pannu's adored radio mystery into Acorn TV's next cozy crime drama has been an absolute pleasure. With Meera Syal's renowned humor and talent leading the series, and a captivating set of mysteries to solve, we know our audiences will devour every moment of this witty and delectable series."
Added Alison Owen, Founder and Co-Chairperson of Monumental Television:
"Monumental Television are extremely proud to be making Mrs Sidhu Investigates and are excited to be filming with Meera Syal and Craig Parkinson. From Suk Pannu's and Absolutely Productions' wonderful radio show, the television series will transcend to our screens as a captivating and warm comedy/drama."
Mrs Sidhu Investigates is a 4 x 90-minute series created and written by Suk Pannu, with Vivienne Harvey (The Indian Detective) also writing two episodes and Meera Syal providing additional material. Directing the series are Steve Barron (Merlin) for Episodes 1 and 2 and Ben Kellett (Mrs. Brown's Boys) for Episodes 3 and 4. Jane Wallbank (Mount Pleasant) serves as producer. The executive producers include Catherine Mackin and Bea Tammer of Acorn Media Enterprises; Jane Wallbank, Alison Owen, Debra Hayward, and Alison Carpenter for Monumental Television; Gordon Kennedy for Absolutely Productions; and Steve Barron. Meera Syal and Suk Pannu are also executive producers.
Production on the series has started in the UK.
Acorn TV has exclusive rights worldwide to the series, and expects to premiere it in 2023. Stay tuned for updates.
__________________
As an affiliate of Amazon and other companies, ads & affiliate links on this blog allow us to earn income from qualifying actions and purchases (at no extra cost to you).

Share this post/page.

Mrs Sidhu Investigates: Acorn TV Adapting BBC Radio 4 Mystery Series Into TV Show