Top Gear, the world's biggest motoring show, is returning to BBC America with Season 32 in a few weeks. Check out the trailer!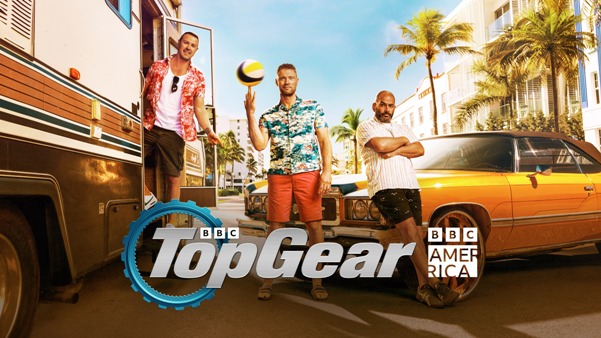 Program presenters Freddie Flintoff, Chris Harris, and Paddy McGuinness will be back for their sixth season at the wheel — and with their racing licenses, to boot — when Season 32 of Top Gear returns to BBC America on Thursday, July 14, at 10 PM ET.
For folks who subscribe to AMC+, the new season will be available on the streaming platform a week earlier, on Thursday, July 7, with additional episodes available to stream the same day they premiere on BBC America.
This five-part season sees Freddie, Chris, and Paddy coming to America on a motorsport mission, as well as going head-to-head in a heavy-duty challenge as they train to become truck drivers. It also features a TV cop car tribute, plus reviews of the Maserati MC20, Rivian R1T, and much more.
Episode Descriptions
Episode 3201 — Premieres Thursday, July 14, 10 PM ET on BBC America | July 7 on AMC+
In the past few years, Freddie, Chris, and Paddy have tried their hands at quite a few motorsports, but, alas, they've not done very well. However, now that all three of them are boasting about their racing licenses, the show's producers decided it was time to send them on a motorsport mission, specifically to the home of grassroots racing: Florida. Here Team Top Gear will go up against talented locals in events that include donk-car drag racing and a swamp buggy shoot-out, with all ending up at the Freedom Factory Raceway for a NASCAR-style showdown — in old American police cars. Their "team bus" for the trip? An old RV that, to be honest, has seen better days.
Episode 3202 — Premieres Thursday, July 21, 10 PM ET on BBC America and AMC+
Last year Britain lost one of its greatest inventors, Sir Clive Sinclair. He was a true pioneer, and Chris and Fred are out to celebrate Sinclair's genius by breathing new life into one of his most iconic creations: the Sinclair C5. Though much derided, it was an all-electric, eco-friendly, low-speed personal mobility vehicle, launched 40 years ahead of its time. On a mission to give this trundling trailblazer one more eccentric adventure, Fred will attempt to break the national speed limit while piloting the C5 down an Olympic bobsleigh run.
Regarding TV cop cars, back in the day they were as famous as the stars who drove them and even the shows themselves — like Starsky and Hutch's Ford Gran Torino, Magnum PI's Ferrari, and Inspector Morse's Jaguar. After a drive down memory lane in some old TV cop car favorites, the hosts decide to inspire the drama producers of today by each picking a brand-new, high-performance hero car for a proper screen test, to prove just what today's TV cop shows are missing.
Episode 3203 — Premieres Thursday, July 28, 10 PM ET on BBC America and AMC+
With Britain running short on truck drivers, Chris, Freddie, and Paddy have decided to do their bit by studying hard, getting their licenses, and becoming full-fledged truck drivers themselves. But once they've passed the test, an important question arises: Which of them is the best big-rigger of the bunch? So they hit the road, live the trucker lifestyle, and tackle a few heavy-duty challenges — not to mention a healthy dose of high-octane racing — to decide the answer.
Episode 3204 — Premieres Thursday, August 4, 10 PM ET on BBC America and AMC+
Since the pandemic started, Britain's second-hand car prices have been soaring (like in the US), up by nearly a third in the last year alone. But worry not! Because the hosts reckon that, on even the tightest of budgets, you can still bag a dependable used car that'll keep soldiering on, no matter what you throw at it. That's all well and good in theory, but with only a few hundred British Pounds each to spend, it can't be long before cracks begin to appear…
Episode 3205 — Premieres Thursday, August 11, 10 PM ET on BBC America and AMC+
The world is changing, and gasoline's days are numbered — so what does this mean for the traditional "petrolhead"? Chris and Paddy are on a mission to show that going green doesn't have to be dull. In fact, while testing some of the most groundbreaking new cars out there at the Top Gear test track, they discover that whether vehicles are powered by batteries, hydrogen, or synthetic petrol, the future of fuel looks very bright indeed.
Top Gear is a BBC Studios Factual Entertainment Production, with Clare Pizey and Alex Renton serving as executive producers. BBC Studios handles global distribution.
__________________
As an affiliate of Amazon and other companies, ads & affiliate links on this blog allow us to earn income from qualifying actions and purchases (at no extra cost to you).

Share this post/page.

Top Gear: BBC America Sets Premiere Date for Season 32 of Fan-Favorite Motoring Show