HBO Max has announced its renewal of Starstruck, the critically-acclaimed and fan-favorite Rose Matafeo rom-com series, for a third season.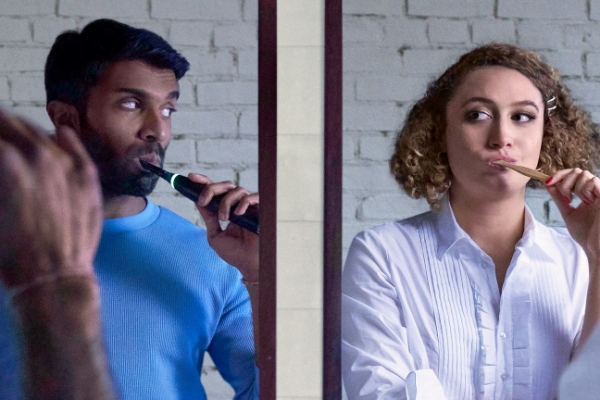 Max Original series Starstruck was renewed for Season 3 by HBO Max and co-producer BBC Three. The series was nominated for Best Comedy Programme at the 2022 Broadcast Awards, and Best Comedy Series at the 2021 Edinburgh TV Awards.
Created, co-written by, and starring BAFTA TV and National Comedy Award nominee Rose Matafeo (W1A), Starstruck follows Jessie (Matafeo), a millennial living in East London, juggling two dead end jobs and navigating the complications of becoming romantically involved with famous film star Tom (Nikesh Patel, Indian Summers).
In Season 1, Jessie has to navigate the awkward morning after the night before when she discovers the complications of accidentally sleeping with Tom.
And in Season 2, the couple realize they can't keep away from each other.
Both seasons are currently streaming in the US on HBO Max.
Produced by Avalon (Breeders, Last Week Tonight with John Oliver), the series is co-written by Matafeo, Alice Snedden (7 Days), and Nic Sampson (The Brokenwood Mysteries), with Matafeo and Snedden also directing.
Said Rose Matafeo:
"A third? Sure. Fine. I'm truly thrilled to bring this incredibly talented cast back for a third installment, and equally excited to clamber into the director's seat alongside my nice friend Alice Snedden who I cannot seem to get rid of."
Sarah Aubrey, Head of Original Content, HBO Max, stated:
"Rose has created a show that strikes just the right balance of heart and humor. Starstruck is exactly the kind of rom-com that we love at HBO Max, and we are so happy to see Jessie and Tom's story continue."
Gregor Sharp, BBC Comedy Commissioning, commented:
"Starstruck is a blast of fresh comedy air, perfectly capturing the emotional mayhem of a new relationship with sharp wit, dry humor and a truthful eye – we can't wait to see what Rose and the team have in store for Jessie and Tom in the new series."
And Jon Thoday, Executive Producer for Avalon, enthused:
"It is fantastic to work again with two brilliant partners, in the BBC and HBO Max, to make a third season of this excellent show from Rose Matafeo."
Starstruck is executive produced by Rob Aslett, Jon Thoday, Cath Gagon, Richard Allen-Turner, Rose Matafeo, and Gregor Sharp for the BBC. Toby Welch is series producer.
Stay tuned for updates.
__________________
As an affiliate of Amazon and other companies, ads & affiliate links on this blog allow us to earn income from qualifying actions and purchases (at no extra cost to you).

Starstruck: HBO Max Renews Terrific Romantic Comedy Series for Third Season