Today Peacock announced the US premiere date for The Undeclared War, BAFTA winner Peter Kosminsky's new cyber thriller series.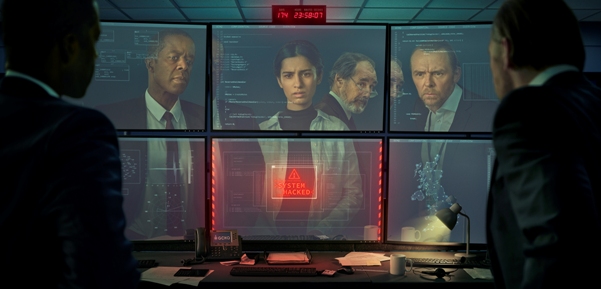 Executive produced, directed, and co-written by Primetime Emmy® Awards nominee and five-time BAFTA Awards winner Peter Kosminsky (Wolf Hall, The Government Inspector, Britz), The Undeclared War is a cyber thriller that lifts the veil on the most urgent battle of our time.
The cast of the six-part, hour-long drama includes Oscar® winner Mark Rylance (Wolf Hall, Bridge of Spies), Simon Pegg (Star Trek, Mission: Impossible), Adrian Lester (Riviera, Mary Queen of Scots), Alex Jennings (This Is Going to Hurt, The Crown), Maisie Richardson-Sellers (DC's Legends of Tomorrow, The Originals), and Hannah Khalique-Brown (Doctors, Muse), amongst others.
The result of Kosminsky's meticulous research, the story is set in 2024 and tracks a leading team of analysts buried in the heart of GCHQ (Government Communications Headquarters, the UK's version of the US's National Security Agency), who are secretly working to ward off a series of cyber-attacks on the UK in the run-up to a general election. When a routine stress test of internet infrastructure goes awry, 21-year-old GCHQ intern Saara Parvan (Hannah Khalique-Brown) suddenly finds herself operating on the invisible frontier of high-stakes cyber warfare.
In a thrilling cat-and-mouse game, Saara and the team at GCHQ must try to stay one step ahead and anticipate their opponent's every hidden move. The clock is ticking as a battle with high stakes and unpredictable enemies takes place entirely online, with very real consequences. But how do you win a war that most of the public doesn't know you're fighting?
The Undeclared War premieres in the US in its entirety as a binge-drop on Thursday, August 18, on Peacock.
Said Peter Kosminsky:
"The Undeclared War has been many years in the making. It imagines how the next few years might play out in the domain of cyber warfare – a battle unseen by the public but with potentially devastating consequences. In my work, I've tried to shine a light on aspects of publicly policy which affect us all but where the details of what is taking place, often behind the scenes, are not well understood. I hope this drama will give audiences an insight into a world certain to impact our lives significantly in the years ahead."
A co-production of Playground, Stonehenge Films, and Universal International Studios in association with Channel 4, The Undeclared War is executive produced by Colin Callender and Noëlette Buckley for Playground, with Robert Jones as producer. The writers are Declan Lawn (The Salisbury Poisonings), Adam Patterson (The Salisbury Poisonings), and Amelia Spencer (Dead Birds).
__________________
As an affiliate of Amazon and other companies, ads & affiliate links on this blog allow us to earn income from qualifying actions and purchases (at no extra cost to you).

The Undeclared War: Peacock Sets US Premiere Date for New Cyber Thriller