Signore Volpe, the new mystery series starring Emilia Fox, continues with the titular sleuth digging for the truth after finding human bones at an archaeological dig site.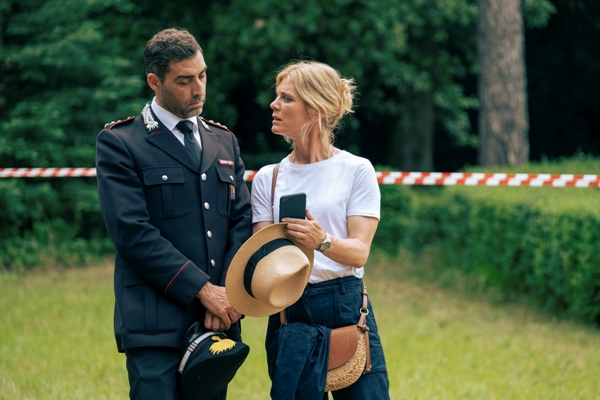 With the stunning scenery of Umbria serving as the backdrop for Signora Volpe, I imagine that many of the show's viewers have been checking into flights and accommodations for a holiday in Panicale, where the series is set, or someplace else in this Italian region that's equally as charming.
Now-former MI6 operative Sylvia Fox (Emilia Fox, Silent Witness, Delicious) initially came to Panicale for her niece's wedding (in Episode 1, "An Anxious Aunt"). After solving the mystery of the dead body in the lake, and feeling the need to start fresh, she decided to stay — as in leaving MI6, pulling up stakes and relocating here from London, and buying a dilapidated stone house at first sight (à la Frances Mayes in Under the Tuscan Sun).
The place is practically uninhabitable, and renovations are underway at the start of Episode 2, "Secrets & Sacrifices." While in town with her sister, Isabel (Tara Fitzgerald, Game of Thrones), Sylvia espies Mallory Bell (Bronagh Gallagher, Pramface), a former classmate from Cambridge, but doesn't manage to escape notice. Mallory, an archaeologist, is staying at Castello di Monterosa, where she is doing a dig, and invites Sylvia to join her.
But instead of finding a relic of the Knights Templar from the early Middle Ages, Sylvia discovers human bones. The dig is now a potential crime scene, and she is obliged to call the Carabinieri, which brings to the castle Captain Giovanni Riva (Giovanni Cirfiera, American Crime Story, Ford v Ferrari), the coiner of "Signora Volpe" (Ms. Fox) — because "everything sounds better in Italian."
Panicale is a small town, so, needless to say, word spreads like wildfire about the skeleton the police forensics team unearthed from a shallow grave. Everyone, including Riva, believes the bones belong to Ornella Pannacci, a 16-year-old girl who disappeared 25 year ago. What's more, the locals have been harassing and accusing the reclusive Carlo Sabatini (Francesco De Vito, Borgia) of Ornella's murder for a quarter-century, and now they have evidence that he killed her. Or do they?
Sylvia isn't so sure and she sets out to find out what really happened to the girl, while a bully of a "glorified traffic warden" seems to be targeting her. In the process of solving this mystery, Sylvia unravels another — and unwittingly helps Mallory in a way that neither of them would have imagined.
Signora Volpe: Secrets & Sacrifices premieres in the US today, Monday, May 9, exclusively on Acorn TV.
Coming up next week is the final episode of what I hope is the first of many seasons of Signora Volpe, as the show, like the eponymous character, is clever and captivating.
In "Truffles & Treachery," one of the men doing the renovations on Sylvia's house asks her for a favor: to find Mimi. Not a person, but a pig. Not an ordinary pig, but a money-making truffle pig. One that appears to have been pig-napped.
In the matter of a different favor, Sylvia's ex-husband and former MI6 colleague, Adam Haines (Jamie Bamber, Law & Order: UK), shows up in Panicale asking her to help a college student who's been arrested for murder in Rome. Sasha Pavlenko (Alexander Arnold, Creation Stories) is no ordinary undergrad; rather, he's the son of a Russian politico. And unless he starts talking, he'll end up in prison for life. It takes a bit of convincing, but Sylvia agrees to help. But there is more to this situation than what Adam has shared with her, and more than what Sasha is aware of. The latter can be said of Sylvia as it relates to Riva, too…
Signora Volpe: Truffles & Treachery premieres Monday, May 16.
__________________
As an affiliate of Amazon and other companies, ads & affiliate links on this blog allow us to earn income from qualifying actions and purchases (at no extra cost to you).

Share this post/page.

Signora Volpe: New Emilia Fox Mystery Series Continues with More Intrigues