Ovation TV has announced a schedule change for Season 15 of Murdoch Mysteries, one that doubles the mystery-solving fun for fans of the hit Canadian series.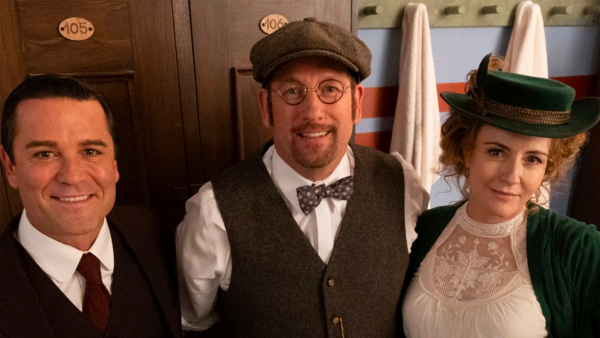 With the first eight episodes of Murdoch Mysteries: Season 15 having premiered in the US to date, and Episode 9 bowing this coming Saturday on Ovation TV, the network has announced a shift in its schedule for the second half of the hit Canadian mystery series' new season. Instead of debuting Episodes 13 through 24 singly on a weekly basis for twelve weeks (like Episodes 1 through 12), they will air as two back-to-back episodes over six weeks. Double the Murdoch Mysteries stories means double the sleuthing fun each evening!
Here's the updated schedule for the second half of Season 15:
Saturday, May 21
7 PM ET: "Murdoch on the Couch" (Episode 13) — Murdoch investigates a death threat against Sigmund Freud and gets an unwelcome analysis.
8 PM ET: "The Witches of East York" (Episode 14) — Strange things happen after Murdoch arrests a man claiming witches are trying to kill him.
Saturday, May 28
7 PM ET: "Rawhide Ralph" (Episode 15) — When Harry Murdoch comes to visit, he and Ogden are abducted by one of Murdoch's crazed foes.
8 PM ET: "It's a Wonderful Game" (Episode 16) — Murdoch and his colleagues attend a charity basketball game where the coach is murdered. (Includes a special guest appearance by Nick Nurse, head coach of NBA team the Toronto Raptors, pictured above.)
June 4
7 PM ET: "Bloodlines" (Episode 17) — Violet Hart investigates when a protester dies at an event for Black people's rights.
8 PM ET: "Patriot Games" (Episode 18) — Murdoch investigates when a Japanese spy is found dead in a Korean family's cellar.
June 11

7 PM ET: "Brother Can You Spare a Crime" (Episode 19) — Murdoch suspects someone in a vagrant encampment robbed and killed a young woman.
8 PM ET: "Pendrick's Planetary Parlor" (Episode 20) — Murdoch investigates after a murder is transmitted over James Pendrick's new invention.
June 18

7 PM ET: "Devil Music" (Episode 21) — Murdoch investigates the murder of a musician, whose death was narrated in a blues song.
8 PM ET: "Sweet Amelia" (Episode 22) — When Crabtree's mentally deranged kidnapper, Amelia, turns herself in, he braces for trouble.
June 25

7 PM ET: "Finale: Part One" (Episode 23) — When a man resembling Murdoch is shot, the actual Murdoch must find the killer before the killer finds him.
8 PM ET: "Finale: Part Two" (Episode 24) — With his family in hiding, Murdoch attempts to solve who is behind attempts on their lives.
Folks in the lower 48 can catch up on Murdoch Mysteries: Season 15: Episodes 5-8 on Ovation TV.
__________________
As an affiliate of Amazon and other companies, ads & affiliate links on this blog allow us to earn income from qualifying actions and purchases (at no extra cost to you).

Murdoch Mysteries: New Season 15 Episodes Will Air in Pairs on Ovation TV