A real-life undercover police operation to catch a killer is at the heart of Deceit, but the miniseries is about so much more than that.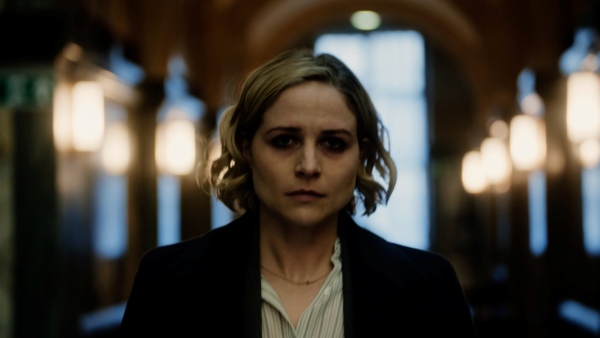 Instead of recreating a crime and the subsequent investigation, Deceit opens after a heinous murder has been committed and the months-long police investigation has turned up very little. With just one man as a suspect and only circumstantial evidence against him, the police decide to implement a risky and dangerous strategy to get their man and get him off the streets before he can kill again.
In mid-1992 Rachel Nickell was brutally attacked and murdered in broad daylight on Wimbledon Common in South West London. With an 1,100-acre crime scene, no forensics, and only Rachel's two-year-old son for a witness, DI Keith Pedder (Harry Treadaway, Penny Dreadful, Mr. Mercedes) needs a break on the case. He has sought help from criminal profiler Professor Paul Britton (Eddie Marsan, Ray Donovan, River), who assists Pedder in devising an undercover operation designed to elicit a confession from Colin Stagg (Sion Daniel Young, Keeping Faith, War Horse), the man Pedder is convinced is Rachel's murderer.
Enter DC Sadie Byrne (Niamh Algar, The Virtues, Raised by Wolves), a highly-ambitious undercover cop with the Metropolitan Police. She is the bait at the center of Operation Edzell — becoming her legend Lizzie James, an attractive blonde woman with dark secrets and desires, in order to develop a relationship with Colin Stagg, gain his trust, and make him fall in love with her — all with the objective of getting him to confess to killing Rachel.
More months go by — of Sadie communicating and meeting with Colin as Lizzie, of her being unable to stop thinking about Colin, of her unraveling to the brink of breaking mentally, punished by the weight of the pressure coming from all sides as well as from her own ambition — until the fateful evening that Operation Edzell ends and Sadie can breath again.
But this isn't the end of the story…
Watching the undercover operation play out in Deceit is a bit of a slow burn, as there is little action, per se. But there is so much else going on on screen that simply demands attention.
Over the course of four episodes, we watch as Sadie devolves from a confident, near-fearless undercover cop who is sure she will get the confession and accomplish what no other officer, male or female, has done before, to a cop who is desperately unsure of herself, her skills and her work, and deathly afraid of failing. Niamh Algar's electrifying performance as Sadie has landed the actress a 2022 BAFTA TV Lead Actress nomination.
As with the first five seasons of Prime Suspect, which were brilliant in depicting the sexism against women that ran rampant throughout the Metropolitan Police during the 1990s, Deceit also demonstrates how male officers looked down on, were dismissive of, and ignored the contributions made by their female colleagues during those years. And when stuff hit the fan, it was typically the women who were left holding the bag, such as Sadie in Deceit. (Before this part of the story, there is a scene that is quite telling, one in which the lead detective, followed by all of the other men in the room, acknowledges Sadie not by her name, but by her legend.)
Against the backdrop of the sexism is the bond between female officers Sadie and Lucy (Rochenda Sandall, Line of Duty, Criminal: UK), which, for Sadie, is a double-edged sword. Like Sadie, Lucy is ambitious. And while Lucy is her mate, supporting her and cheering her on, she also pressures the already-fragile Sadie to get the job done, as Lucy sees the future of her career directly tied to Sadie's success, or failure, on the operation.
Even if you choose to ignore all of that, the story of Operation Edzell and the role the female undercover officer (called Sadie Byrne in the show, but not the real woman's real name) played in it is gripping.
Deceit premiered yesterday in the US and Canada exclusively on Topic and its digital channels. New episodes will debut on Thursdays through May 5.
__________________
As an affiliate of Amazon and other companies, ads & affiliate links on this blog allow us to earn income from qualifying actions and purchases (at no extra cost to you).

Share this post/page.

Deceit: Riveting True-Crime Drama Premieres in the US