Hugh Laurie's adaptation of Why Didn't They Ask Evans? has launched in North America. Read on for more about it and a few words from writer-director-actor Laurie.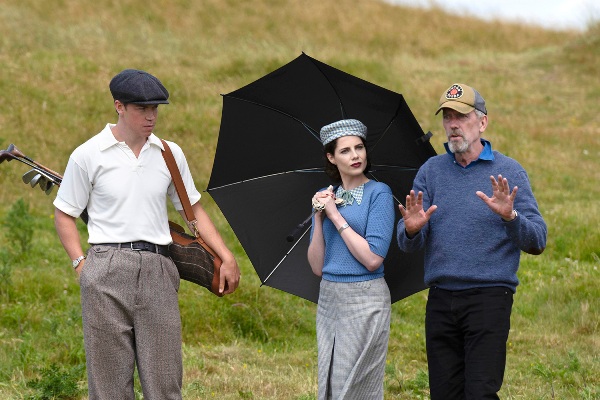 Agatha Christie is regarded as the Queen of Mystery for good reason: her cozy whodunits are ever so clever. And in her iconic novel Why Didn't They Ask Evans?, she doubles the pleasure by giving us two baffling mysteries; of course there is the one in which armchair detectives attempt to discover who committed the central murder and why, with the bonus of the cryptic question of the story's title and what it actually means. The way Christie crafted all of this is the stuff of genius.
Which leads us to Why Didn't They Ask Evans?, the new BritBox Original limited series written and directed by Hugh Laurie (The Night Manager, House M.D.), who also appears in the three-part drama. Leading the cast are Will Poulter (Dopesick, Midsommar) as Bobby Jones, the amiable son of a vicar, and Lucy Boynton (The Politician, Bohemian Rhapsody) as Lady Frances "Frankie" Derwent, Bobby's quick-witted socialite friend.
The story opens in the seaside town of Marchbolt in Wales, where Bobby, while caddying for the local doctor, finds an injured man at the bottom of the cliffs by the golf course. It is the latter who utters, "Why didn't they ask Evans?" — right before he draws his final breath and dies in front of Bobby. Soon thereafter, Bobby reconnects with childhood friend Frankie, followed by the discovery of the shocking (and suspicious) death of a townie and Bobby's realization that things are not what they seem.
So begins his and Frankie's danger-filled adventure, which takes the amateur sleuths from Marchbolt to London to an estate in Hampshire, and leads to their getting entangled in a sinister plot as they work to solve the mysteries of the murders and ultimately discover the meaning of the dying man's final words.
Laurie's Why Didn't They Ask Evans? is as lively and humorous as Christie's novel (sort of like Tommy and Tuppence meet Jeeves and Wooster) — an entertaining binge-watch that features Oscar® winners Jim Broadbent (Iris) and Emma Thompson (Sense and Sensibility) as Lord and Lady Marcham, Frankie's aristocratic parents.
According to Will Poulter, Lucy Boynton, and Hugh Laurie, shooting the series, including the humorous scene with the two Hollywood legends, was fun — which carried over into their laughter-filled Zoom press conference yesterday. I'm privileged to have been invited to participate, and despite my mic going wonky at the absolute worst time, I was able to ask Hugh (via chat, and despite my slow typing) which of his three roles on the series — as writer, director, or actor — was the most fulfilling for him. (Text has been edited for clarity.)
HL: "Oh… Oh… I, oh…"

WP: "You can say writing."

LB: "No, you can't."

HL: "No, I can't say writing. I can't say that, because they're here, although I did enjoy it. I think the directing. I was just thinking when you [Will] were talking about that scene of you being on the doorstep outside the house — that was just so, for me, with me sitting at the monitor and watching, that was just so touching and funny. And also the brilliant thing you do, trying to shake hands…"

LB: "Oh my god."

HL: "…which is just exquisitely done, because it's like — What's so great about these two is that they don't let on that they think they're funny. It's so beautiful… That quickly gets tiring if you have people who are pleased with how funny they are. It came so naturally to them… It was such a lovely thing to watch that relationship [between Bobby and Frankie]. Well, I say develop, I mean it's pretty much there right from the start, but, yeah, it did develop. And that was probably the most satisfying — the most fulfilling part was actually to see that made flesh, as it were, after I'd sort of dreamt of it for so long. To actually see it happen is really exciting.
It is for viewers, too, and starting today, folks in North America can stream the entirety of Why Didn't They Ask Evans? exclusively on BritBox.
Commissioned by BritBox North America and produced by Mammoth Screen and Agatha Christie Limited, the three-hour series features Maeve Dermody (And Then There Were None), Conleth Hill (Game of Thrones), Daniel Ings (The Crown), Joshua James (Life), Jonathan Jules (Small Axe), Miles Jupp (The Durrells in Corfu), Amy Nuttall (Downton Abbey), Alistair Petrie (Sex Education), and Paul Whitehouse (Harry & Paul's Story of the 2s).
__________________
As an affiliate of Amazon and other companies, ads & affiliate links on this blog allow us to earn income from qualifying actions and purchases (at no extra cost to you).

Share this post/page.

Why Didn't They Ask Evans?: New Mystery Premiere + A Few Words from Hugh Laurie