Canadian medical drama Transplant is one of the best shows on American telly, and it returns to the lower 48 tomorrow with its second season.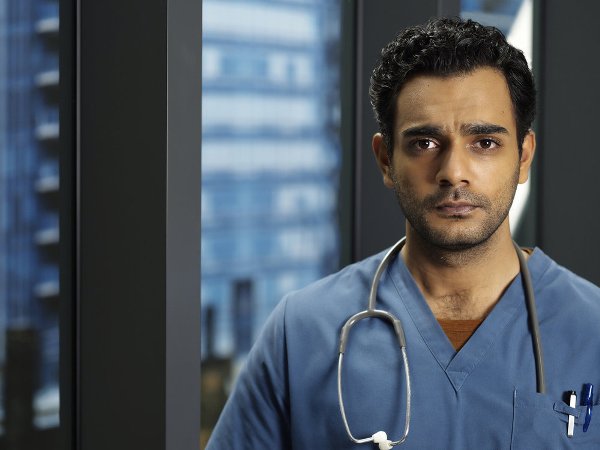 When it premiered in the US last September, Transplant leaped into the top 10 of my favorite new international TV series. I know people in real life like the ones in the show, and while they aren't ER doctors and nurses, their personality traits, work habits, and personal/family situations are like the ones I see on Transplant each week — so human, relatable, engaging, and accessible are the show's characters and stories.
(On top of that, there is little in the way of soap opera-type dramatics in the storylines, which for me is a huge plus.)
If you're not familiar with Transplant, the series follows the story of Dr. Bashir "Bash" Hamed (Hamza Haq), a talented doctor who fled his native, now war-torn, country of Syria with his younger sister, Amira (Sirena Gulamgaus), to make a new life for themselves in Canada. While working as kitchen help at a small restaurant in Toronto, a truck crashed into the place and Bash saved the life of Dr. Jed Bishop (John Hannah), the Chief of Emergency Medicine at the nearby York Memorial Hospital — an act that led to Bishop hiring Bash as a resident in the ER.
It also wasn't the only time that Bash saved Bishop's life.
Season 2 picks up directly after the Season 1 cliffhanger, with Bishop alive but not out of the woods, and Rania (Nora Guerch, Tom Clancy's Jack Ryan), a woman from Bash's past, reunited with him, much to Amira's delight.
Around them, though, Bishop's team isn't smiling, despite their relief. Now they report to the Acting Chief of Emergency Medicine, Dr. Mark Novak (Gord Rand, Orphan Black), whose history with Bishop might be affecting his leadership in the ER.
Regardless, work and life go on for the team. As they handle patients in life-threatening situations and with undiagnosed medical issues (including one wanted for questioning by the police), Theo (Jim Watson) is still flying home to see his wife and kids when his work schedule as a new attending physician allows; June (Ayisha Issa), who still isn't speaking with her father, has stiff competition for the Chief Surgical Resident spot; Mags (Laurence Leboeuf) is still doing her overachiever, let-me-help-everyone thing, which is great for patients and colleagues, herself not so much (especially where Novak is concerned); and Bash, while continuing to be both brother and parent to Amira, is still haunted by deeply painful memories.
Returning cast members in the multi-award-winning drama include Torri Higginson as ER nurse Claire Malone, Sugith Varughese as surgical attending Dr. Aajay Singh, Linda E. Smith as ER attending Dr. Wendy Atwater, Kenny Wong as ER nurse Arnold de Luca, and Mariah Inger as ER nurse Rhoda DaSilva. Joining the cast is Atticus Mitchell (The Hardy Boys) as third-year medical student Jake Cooper.
For folks who haven't seen Transplant yet, check out Season 1 on NBC.com, Hulu, Amazon Video, Apple TV, and other streaming platforms. It's a great show, well worth watching — binge-watching, even.
Transplant: Season 2 premieres in the US tomorrow, Sunday, March 6, at 10 PM ET/PT, on NBC. Episodes will be available for streaming on Peacock TV the day after their linear debuts.
__________________
As an affiliate of Amazon and other companies, ads & affiliate links on this blog allow us to earn income from qualifying actions and purchases (at no extra cost to you).

Transplant: Hit Canadian Medical Drama Returns to NBC with Awesome Second Season