Acorn TV Original The Chelsea Detective is a marvelous new mystery series, and the streamer launched it today in the US and Canada.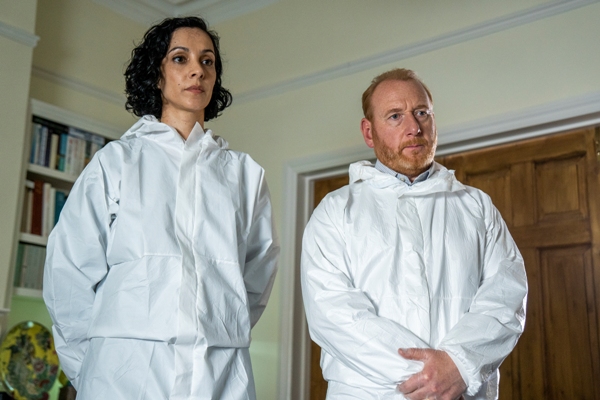 Now that I have finished the screeners for the four feature-length episodes of The Chelsea Detective, I do hope there will be a second season cos it's a smashing murder mystery series — full of appealing lead characters, interesting support characters, and intriguing, intricately-plotted storylines, all set against the backdrop of the affluent West London borough of Chelsea.
Adrian Scarborough (Killing Eve, 1917, Blunt Talk) leads the cast as the titular character, Detective Inspector Max Arnold, a sharp and intuitive investigator who bikes to work, takes a lot of camera-phone photos at crime scenes, and has an incident board on a wall of the houseboat he's been renting since separating from his wife. Max's work partner is DS Priya Shamsie (Sonita Henry, Krypton, Luther), a highly-skilled, no-nonsense detective who returns to work earlier than expected from maternity leave.
Rounding out the team are junior detective DC Connor Pollock (Peter Bankole, Peaky Blinders) and research and tech specialist DC Jess Lombard (Lucy Phelps, Call the Midwife). Assisting Max and co. with their inquiries is Chief Forensics Officer Ashley Wilton (Sophie Stone, Shetland).
In the series opener, "The Wages of Sin," Max and Priya investigate the death of 62-year-old Andrew Knightley, who was pushed in front of an oncoming Tube train. They learn that Knightley, a widowed  stonemason, estranged father, and devout Catholic, had been deeply troubled; he believed he was being haunted by a spirit that was leaving frightening passages from the Bible for him night after night. But it was a flesh-and-blood person that caused his demise, and as the team delves into Knightley's history, they see how human emotions can know no bounds.
"Mrs. Romano" sees Max and Priya looking into the disappearance of Robyn Romano, the PR manager of La Famiglia Romano, a well-known Italian restaurant owned by her wife, Julia. But blood at their home points to foul play, which is later confirmed to be murder. With the missing person case now a homicide, the team must figure out who wanted Robyn dead — and who emailed Julia as Robyn.
The day after Chelsea FC fan Max attends a winning match, he's called to the scene of a murder in "The Gentle Giant." Steve O'Hara, the night security guard at a building supply business, was stabbed to death, his lifeless body found with a bag of drugs. He was anti-drugs and the inspiration for the "local hero" scheme, so the narcotics might have been intended for his cancer-stricken wife. But as the team investigates, Max gets unexpected help from someone close to him, and they soon learn there is much more to O'Hara's story than meets the eye.
And in "A Chelsea Education," Max, Priya, et. al. investigate the murder of Oliver Cowie, the head of the humanities department at the International School of Chelsea. Although Oliver was well-respected, some of his actions weren't appreciated by certain of his colleagues and students at the elite private school — nor by his loving but unhappy wife and daughter. Who amongst the suspects acted on their grievance?
If I didn't enthuse enough earlier about The Chelsea Detective, allow me to say here that "I love this show!" It really is a cracking good mystery series, with humor and clever red herrings sprinkled throughout the stories (but not so many as to do your head in). The pairing of Adrian Scarborough and Sonita Henry is terrific; the two complement each other very well, and their Max and Priya are one of my new favorite detective duos. With each episode, we learn a bit more about their backstories, adding not just depth to the characters but also accessibility to them. I really do hope the show will be renewed. (Fingers crossed!)
Give The Chelsea Detective a go (if you haven't already).
The series costars Anamaria Marinca (The Politician's Husband, The Last Enemy) as Astrid, Max's art dealer wife, and Frances Barber (Whitstable Pearl, Doctor Who) as his Aunt Olivia. Appearing in guest roles are Mina Andala (Unforgotten), Rebecca Front (Inspector Lewis), Bryony Hannah (Call the Midwife), Richard Harrington (Hinterland), Nigel Lindsay (Victoria), Pooky Quesnel (The A Word), Al Weaver (Grantchester), and Liz White (Life on Mars).
Created and executive produced by Emmy® Award winner Peter Fincham (The Lost Prince, Smack the Pony, I'm Alan Partridge), the series is written by Glen Laker (Vera, Prime Suspect), Peter Fincham, and Liz Lake (Riviera, Call the Midwife); directed by Richard Signy (Death in Paradise, Silent Witness) and Darcia Martin (Call the Midwife, Judge John Deed); and producer by Ella Kelly (Death in Paradise, Midsomer Murders).
The Chelsea Detective premiered in the US and Canada today, March 7, with "The Wages of Sin" exclusively on Acorn TV and its digital channels. "Mrs. Romano" will debut next Monday, March 14, followed by the premieres of "The Gentle Giant" on March 21 and "A Chelsea Education" on March 28.
__________________
As an affiliate of Amazon and other companies, ads & affiliate links on this blog allow us to earn income from qualifying actions and purchases (at no extra cost to you).

The Chelsea Detective: Highly Enjoyable Whodunit Premieres in the US & Canada