Today Netflix released the official trailer for Anatomy of a Scandal, the new London-set seasonal anthology series from David E. Kelley (Big Little Lies).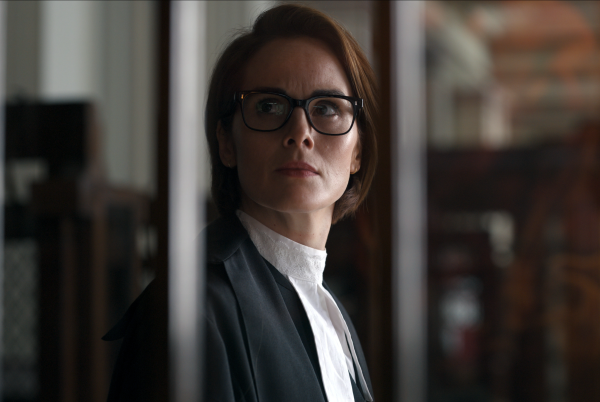 Based on the best-selling novel of the same name by Sarah Vaughan, Anatomy of a Scandal is a gripping psychological thriller and courtroom drama that explores privilege and sexual consent. Insightful and suspenseful, the drama infiltrates Britain's elite through personal and political scandal — where the truth lies between justice and privilege.
The six-episode limited series stars Sienna Miller (American Sniper, The Loudest Voice), Michelle Dockery (The Gentlemen, Downton Abbey), Rupert Friend (Homeland, Death of Stalin), and Naomi Scott (Aladdin, Charlie's Angels), along with Josette Simon (The Witches), Geoffrey Streatfeild (The Other Boleyn Girl), and Joshua McGuire (Lovesick).
James Whitehouse (Rupert Friend) and his wife, Sophie (Sienna Miller), live in a blissful and rarified world. As a Minister in Parliament with a loving family at home, James's trajectory appears without limits — until a scandalous secret suddenly comes to light. Barrister Kate Woodcroft (Michelle Dockery) has a trajectory of her own, and her prosecution threatens to tear into Westminster, the Whitehouse marriage, and her own personal esteem…
Anatomy of a Scandal, a Netflix Series, premieres globally on Friday, April 15, exclusively on Netflix. (You can set a reminder for it now.)
Created, written, and executive produced by David E. Kelley (Big Little Lies, Goliath) and Melissa James Gibson (House of Cards, The Americans), the series is directed by S.J. Clarkson (Jessica Jones, The Defenders), who also executive produces alongside Liza Chasin (The Loudest Voice, Baby Driver) of 3Dot Productions, Bruna Papandrea (Gone Girl, Big Little Lies), Allie Goss of Made Up Stories, and Sarah Vaughan. Margaret Chernin serves as co-executive producer.
__________________
As an affiliate of Amazon and other companies, ads & affiliate links on this blog allow us to earn income from qualifying actions and purchases (at no extra cost to you).

Share this post/page.

Anatomy of a Scandal: Netflix Drops Trailer for New Thriller Limited Series