Crime, the new gritty and dark Scottish crime drama starring Dougray Scott, premieres in North America tomorrow.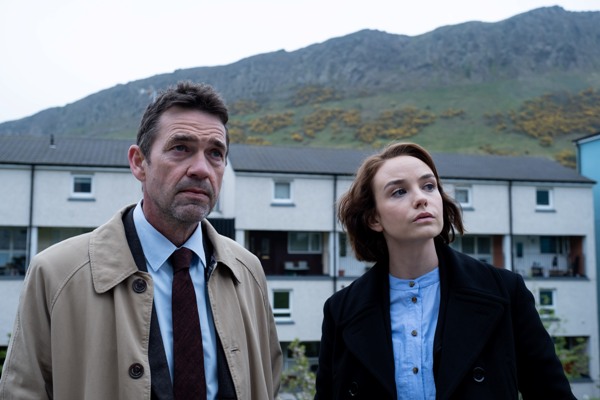 Tomorrow can't get here soon enough. After watching the available screeners for Crime, I am so invested in the story and the character of Ray Lennox that I'm feeling all fidgety waiting for the rest of the episodes to get here so I can find out what happens and how the whole thing ends. The good news is — for me and everyone who plans to binge-watch the series from start to finish — all six episodes will drop at once. Yay!
Crime, a BritBox Original series, premieres in North America in its entirety tomorrow, Tuesday, December 14, exclusively on BritBox.
Based on the novel of the same name by brilliant, best-selling author Irvine Welsh, Crime stars Dougray Scott (Mission: Impossible II, My Week with Marilyn), who leads a who's who of (mostly) Scottish acting talent in the series, including Joanna Vanderham (Warrior, DC's Legends of Tomorrow), Leeds native Angela Griffin (Harlots, Wild Bill), Ken Stott (The Missing, The Hobbit trilogy), Jamie Sives (Guilt, The Victim) Laura Fraser (Breaking Bad, Traces), Derek Riddell (A Confession, Industry), and Ellie Haddington (The Café, Dickensian).
"Ignorance really is bliss… Ignorance helps people go about their lives without having to face up to the fact that monsters are around every corner and under every bed… The road to hell is paved with ignorance."
So says Detective Inspector Ray Lennox (Scott) of the Lothian Police, a cop who dedicates himself to catching those monsters and getting them off the mean streets of Edinburgh while battling his own inner demons. Soon after newly-promoted and calm-headed Detective Sergeant Amanda Drummond (Vanderham) becomes Lennox's new partner, they are assigned a missing person case — that of 13-year-old schoolgirl Britney Hamil, who disappeared while walking alone to school the morning before. CCTV footage points to an abduction.
As Lennox and Drummond delve into the details of people who have links to the young victim, they connect the dots and investigate possible suspects, but don't make much headway and are running out of leads. The Britney Hamil case has made headlines, caused unrest in the city, and stirred things up between the Lothian Police and the police board, so solving the case is imperative, and the sooner the better.
Meanwhile, Ray's single-minded intention of finding and nailing the perpetrator(s) of this and other crimes, combined with his obsession with serial killers, the one nicknamed Mr. Confectioner in particular, starts to wreak havoc on his psychological well-being and interferes with his personal and professional judgment.
Then there's a break in the case…
Also featuring in the cast are Michael Abubakar (Trust Me), Allison McKenzie (Shetland), Réginal Kudiwu (The Widow), and Emma Hartley-Miller (Coronation Street).
As an aside, some viewers might have a tough time making out the dialogue through the Scottish accents. If this is the case for you, turn on BritBox's closed captions function.
__________________
As an affiliate of Amazon and other companies, ads & affiliate links on this blog allow us to earn income from qualifying actions and purchases (at no extra cost to you).
Share this post/page.

Crime: Gritty Scottish Crime Drama Set for North American Premiere