Reyka, a new South African crime thriller starring Kim Engelbrecht and Iain Glen, is set for its North American premiere on BritBox.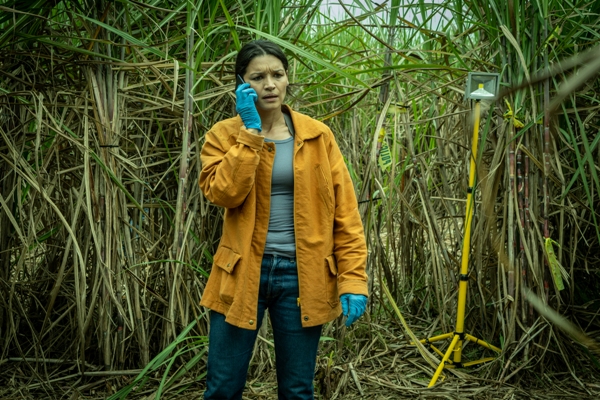 A couple of years ago, BritBox North America expanded the scope of its offerings beyond Britain when the streaming service added the Australian period crime drama series The Doctor Blake Mysteries.
It is doing so again, this time with contemporary South African crime thriller Reyka.
Reyka follows Reyka Gama (Kim Engelbrecht, The Flash, Dominion), a flawed but brilliant and highly-regarded South African criminal profiler whose doctoral thesis was on psychological violence. This is but one crime she experienced personally after she was abducted at the age of twelve by Scottish farmer Angus Speelman (Iain Glen, Game of Thrones, Downton Abbey). Ultimately, Reyka managed to escape. But she is still haunted by her past and bears the scars of the trauma to this day.
While working as a detective for Scotland Yard, Reyka was recruited by her mentor, Brigadier Hector Zwane (Hamilton Dlamini, Blood Psalms), to return home to South Africa to work with him on a serial murder case, which she helped solve — but not before making some mistakes. Little did she know then that it would not be the last multiple-murder case that she would work on.
After villagers find a human limb in their midst, the police investigation brings Reyka and her colleagues to the sugar cane fields of Kwa-Zulu-Natal, where the rest of the female victim's body is found. A more thorough search of the fields yields a horrific discovery: multiple corpses.
Reyka's experience informs her that this is the work of a serial killer, but Hector, for reasons that appear to involve politics and a local clan chief, puts forth a different theory — one that seemingly flies in the face of generally-recognized criminal habits as well as the evidence gathered so far.
Meanwhile, Angus needs Reyka's help to get out of prison. He's been in jail for 22 years for his abduction of Reyka, yet somehow has been able to learn things about her life that he shouldn't know, including about her family and the case she's working on. Likewise, Reyka needs Angus's help for information about another abductee. According to him, "I can tell you things. Things you've forgotten. Things I know you want to hear." It's a classic case of you scratch my back, I'll scratch yours. But can Reyka trust Angus to tell her the truth if she helps him? And will she be able to stop the serial killer before they strike again?
Also in the cast of the eight-episode series are Kenneth Nkosi (District 9), Leeanda Reddy (Cape Town), Mavuso Simelane (The Widow), newcomer Rashaan Stackling, Gerald Steyn (Dam), Thando Thabethe (Housekeepers), and Anna-Mart van der Merwe (Poppie Nongena), amongst others.
Reyka, a BritBox Original series, premieres in its entirety in North America tomorrow, November 16, exclusively on BritBox.
__________________
As an affiliate of Amazon and other companies, ads & affiliate links on this blog allow us to earn income from qualifying actions and purchases (at no extra cost to you).

Share this post/page.

Reyka: New BritBox Original South African Crime Thriller Set for North American Premiere