The finale of Manhunt: The Night Stalker is coming up. What might be next for the hit series after the current season ends? Read on to find out.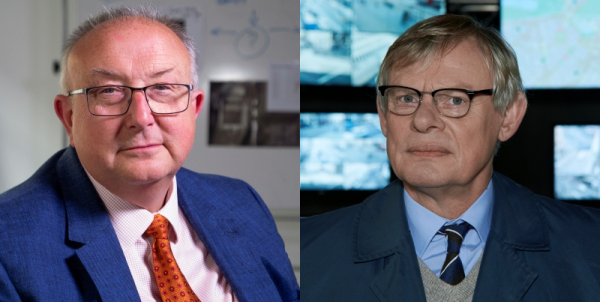 True-crime drama Manhunt has gone down a storm on both sides of the pond since its first season launched in 2019, followed by the second, titled Manhunt: The Night Stalker, which premiered in the US and Canada last month.
If you aren't familiar with the show, each season follows a singular police investigation led by DCI Colin Sutton, the SIO (Senior Investigating Officer), played by Martin Clunes. The first season centers on the work of Sutton and his team in nabbing a serial killer, and the second focuses on his weeks-long involvement in a serial burglar and rapist case that spanned 17 years.
With the North American finale of Manhunt: The Night Stalker just days away, viewers who have been following this story and the show as a whole might be wondering what's next. Like, will there be another season? This question was front and center in my mind when I, along with several other entertainment press people, had the opportunity to chat with series star Martin Clunes, series creator/writer/executive producer Ed Whitmore, and the crime-stopping, case-solving former DCI himself, series creator/executive producer Colin Sutton.
According to Ed, they are looking at the possibility of another season and thinking very carefully about what they would focus on. With Colin's 30-year career on the police force, I was curious if they might explore the possibility of a season featuring standalone episodic stories versus a single, serialized story.
EW: "I think the truth is that, in the first instance, we'd be looking to do something that was more a successor to the first two seasons, in the sense of being one big story that is a manhunt that fits under the banner of the show and what's gone before. But I think we're open to everything, absolutely. I think that the sort of DNA of Manhunt is about bringing the audience into an investigation with maximum authenticity. And that could be applied to shorter cases that would have a kind of shorter running time, for sure.

"I think probably where we would draw the line is, people have asked us all kinds of questions about how we might take it forward, and some people have said, 'Would you consider fictionalizing Colin, or having Colin doing fictional cases?' And I think, for me, that's the least interesting of the ways to go, because one of the things that sort of marks Manhunt out is that it's, as people are aware — and people watch things differently, I think — when they know it's not just kind of loosely based but as closely as we could do it… what you're seeing happened, or a very close cousin of what happened. And I think if you take that away, Manhunt becomes something, would become something very different — and to be honest, a bit more like a lot of other TV crime shows.

"So I think that would be my answer. We would absolutely explore every avenue, but I think making up cases for Colin would not be a road that we would be in a hurry to go down."
Keeping it real. Yup, I overstand.
While the future of Manhunt is unknown at the moment, a given is Colin's involvement in the production of the two current seasons of the show — not just as the real-life man behind the lead character, but the key resource for keeping it real, as it were. So I was keenly interested in whether Colin, in working with Ed, Martin, and the production teams, had experienced a sense of reliving the two cases, of reflecting on his work on those investigations, and if anything new came up for him about them.
CS: "Yeah, I think there were two aspects related to that. I think I was put back feeling the same emotions that I felt at the time on a number of occasions when watching the finished production. And I think that's testament to the quality, both of Ed's writing and of the acting by Martin and the rest of the cast. In each season there was one particular scene where I'm again moved to tears, as I was at the time. So if it's powerful for me, and I kind of knew the story and I was there originally, then I guess it must be powerful for other people.

"And in terms of 'The Night Stalker,' in terms of the new one, yeah, I — because you're in the sort of fog of war, almost, in doing these investigations and making sure you take the best possible case to trial — sometimes I think you miss the wider social implications of them. And it was in reliving them, in order to produce the programs, that I really hit upon this business of the authorities, the police, people generally, not taking good care of elderly folk. And I think we were able to put that theme into 'The Night Stalker,' and some of the dialogue that Ed wrote for it is just really, really powerful and really, really puts that story right at the front of the feelings the viewer will have."
Now back to the future: Colin has started writing another book, so the obvious question is, "Is the topic something that would fit inside of the Manhunt universe?"
CS: "'I hope so' is probably the answer to that. It might do. I have started writing another book, and the difficulty is it's — it's a book without an ending at the moment, because it's something that's still, to a degree, unresolved. And so that might be, that makes it slightly different to where we were with the others. But having said that, it has lots of elements that do fit within, I think, our DNA, and would work logically as a follow-on to what we've done already. It's one of the things that we're talking about."
So the list of possibilities for future Manhunt stories grows longer. Cool!
Lastly, what some might consider a minor detail in Manhunt: The Night Stalker became the visual version of an earworm to me. It was something I couldn't get out of my mind, long after the scene was over. I am referring, of course, to the 'Keep Calm and Nick the Bastard' tee shirt. Did Colin really get it from his parents? Curious minds want to know!
CS: "I didn't, but I have one now — which I should have worn, shouldn't I? (He said with a chuckle amidst laughter from Martin and Ed.) There was a similarly inappropriate and humorous tee shirt that I wore, but there were licensing difficulties, so somebody, some brilliant person on the production team, made that one up."

EW: "The real tee shirt, if memory serves, was connected to a BBC show, and it wasn't because of ITV or BBC rivalry that we couldn't use it. I think there was a willing there, but the license was gonna take too long to come through."

MC: "The Sweeney. It was The Sweeney."

EW: "No, it was Life on Mars, wasn't it?"

CS: "It was Life on Mars."

MC: "Oh, was it? Yeah, oh right."

CS: "The licensing person was on furlough and nobody else knew where the pen was, I think."

EW: "We always aspire on Manhunt to get every detail right, but that was one that eluded us. We thought we did okay with the 'Keep Calm and Nick the Bastard' as a replacement."

CS: "Very good, very good."
Very good, indeed!
Speaking of very good, the first three episodes of Manhunt: The Night Stalker are streaming in the US and Canada on Acorn TV. It concludes this coming Monday, November 8.
__________________
As an affiliate of Amazon and other companies, ads & affiliate links on this blog allow us to earn income from qualifying actions and purchases (at no extra cost to you).

Share this post/page.

Manhunt: The Night Stalker Q&A with Martin Clunes, Colin Sutton & Ed Whitmore