Man's best friend is also a key member of a major crimes squad in Hudson & Rex, the hit Canadian detective drama that is debuting in the US tomorrow.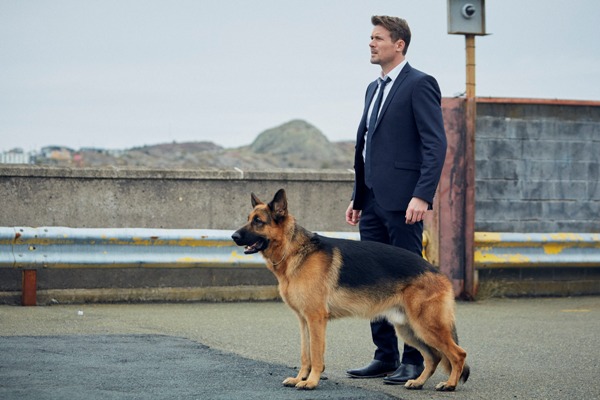 Based on Kommissar Rex (Inspector Rex), the Austrian detective dramedy created by Peter Hajek and Peter Moser, Hudson & Rex is on the lighter side of the crime drama scale, with a bit of humor, a bit of action, and a costar with fur. So for folks who want a break from all the noir shows, this one should do nicely.
Hudson & Rex stars John Reardon (Van Helsing, Continuum) as Charlie Hudson, a divorced detective in the Major Crimes Unit of the (fictional) St. John's Police Department. His K9 partner is German Shepherd Rex (Diesel vom Burgimwald), "a highly-trained law enforcement animal" with heightened scent and sound senses that bristles at being called a mere "pet." Had it not been for Charlie, Rex's days would have been severely numbered following the death of his former human partner.
Working alongside them to solve complex cases are Chief of Forensics Dr. Sarah Truong (Mayko Nguyen, Killjoys, ReGenesis), Police Superintendent Donovan (Kevin Hanchard, Cardinal, Orphan Black), and IT specialist Jesse Mills (Justin Kelly, Wynonna Earp, Degrassi: The Next Generation).
In the series opener, we meet Hudson and Rex while they're out for a run, a rather pedestrian activity that turns out to be quite eventful when they witness the abduction of a teenage girl in broad daylight. With Rex having run off to follow the kidnappers, Charlie and the team work to determine the who and the why behind the abduction, and discover that it is part of a larger plan.
The human-canine detective duo's next case together sees Hudson, with Rex's help, investigating the death of an "urban daredevil" — an extreme parkour enthusiast who free-climbed on rooftops until his last stunt did him in… Or did it?
And in the episode "School Daze," Charlie needs more than Rex's highly-trained nose and ears to find the person or persons behind the murder of a controversial and divisive professor at Heritage University in Newfoundland & Labrador. Enter Jesse, who reluctantly agrees to go undercover as a student to help investigate the suspects.
Having watched and enjoyed the original Austrian series when it landed in the US a few years ago, I had my fingers crossed that some channel, streaming or linear, would pick up Hudson & Rex for audiences in the States. So how happy am I that UP Faith & Family, a streaming service devoted to faith-affirming and family-friendly entertainment, has done just that.
I'm also glad that the show does not disappoint. As with practically all series, certain episodes of this one are better than others. Of the three screeners that UP Faith & Family made available, I particularly enjoyed the second episode, "Fearless Freaks," which features some clever red herrings.
The series is produced by Shaftesbury and Pope Productions Ltd. in association with Citytv and Beta Film GmbH. The Executive Producers are Christina Jennings, Scott Garvie, Oliver Bachert, Friedemann Goez, and Nataline Rodrigues. Paul Pope is Producer. Also behind the scenes is Sherri Davis, the veteran Canadian dog trainer who directs Diesel for all of his performances as Rex.
Hudson & Rex premieres in the US tomorrow, Friday, November 5, on UP Faith & Family, which will release new episodes weekly.
__________________
As an affiliate of Amazon and other companies, ads & affiliate links on this blog allow us to earn income from qualifying actions and purchases (at no extra cost to you).

Share this post/page.

Hudson & Rex: Canadian Light Crime Drama-Mystery Series Set for US Premiere