DI Jimmy Perez and his crew on Shetland are coming back, y'all, and not a minute too soon. Check out the trailer!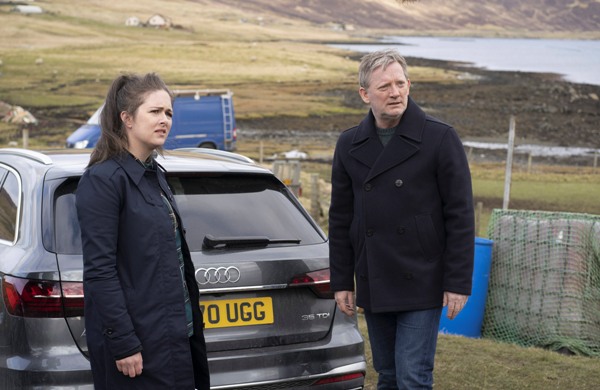 For folks who might be new to Shetland, the series, based on the best-selling books by award-winning crime writer Ann Cleeves, follows Detective Jimmy Perez (Douglas Henshall, In Plain Sight, Outlander) and his team as they investigate crimes within the close-knit community on the titular Scottish archipelago.
The new season is not an adaptation but an original story written by David Kane (Stonemouth, The Field of Blood). It finds Perez grieving a death in his family while he, DS Alison "Tosh" MacIntosh (Alison O'Donnell, Holby City), and DC Sandy Wilson (Steven Robertson, The Bay) investigate the murder of a prominent Shetland local. This killing causes shock waves through the community, and because the victim was so well-known and connected to so many people on Shetland — including those who might have had a motive for murdering the person — our detective trio have a lot of potential suspects.
Elsewhere on Shetland, the early prison release and return home of a convicted murderer causes a different sort of stir amongst the locals, including Sandy and Duncan (Mark Bonnar, Guilt).
In addition to the lead cast, actors reprising their roles in the new season of Shetland include Erin Armstrong (Rillington Place) as Cassie Perez, Lewis Howden (Taggart) as Sgt. Billy McCabe, Conor McCarry (The Loch) as PC Alex Grant, Neve McIntosh (Traces) as Kate Kilmuir, and Julia Brown (World on Fire) as Molly Kilmuir.
Shetland: Season 6 premieres in the US on Tuesday, November 9, exclusively on BritBox. New episodes will debut weekly through December 14.
__________________
As an affiliate of Amazon and other companies, ads & affiliate links on this blog allow us to earn income from qualifying actions and purchases (at no extra cost to you).

Share this post/page.

Shetland: BritBox Sets US Premiere Date for Season 6 of Scottish Mystery Drama