A new episode of Lucy Worsley's Royal Myths & Secrets arrives on PBS this Sunday, and we have an exclusive clip from it for you!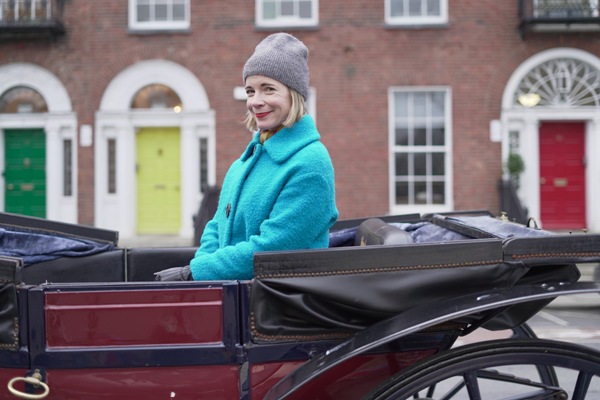 Fan-favorite royal historian, author, program presenter, and Chief Curator at Historic Royal Palaces, Lucy Worsley (12 Days of Tudor Christmas, Jane Austen at Home: A Biography) returned to US telly last Sunday with "The Reformation," the first of three new episodes in her Lucy Worsley's Royal Myths & Secrets series. In it she investigated the inside story of the English Reformation.
Lucy examines another pivotal historic period in the next hour-long episode, "George IV and The Regency," in which she uncovers long-held myths, shines a light on the "spin" and the exaggerations, and reveals the lesser-known stories behind the Regency Era, which lasted but nine years, from 1811-1820.
For many, the Regency Era conjures up thoughts of romance à la Jane Austen, of beautiful architecture, furniture and fashion, of a genteel, well-ordered, elegant time in the nation's history — when in actuality it was an age of revolution. In "George IV and The Regency," Lucy examines what we've come to know as the "madness" of King George III and how it threatened the British throne. Contrary to popular myth, the King's illness generated sympathy among the British public, but he was still forced to hand over power to his extravagant and unpopular son, who would eventually be crowned King George IV.
The episode sees Lucy investigating the new King's secret marriage to his Catholic mistress, his debauched lifestyle, and his enormous debts — revealing that many subjects thought him entirely unsuitable to reign. Despite the threat of revolt, George IV restored splendor to the monarchy through art and architecture, and created a myth that he personally had vanquished the revolutionary French at the Battle of Waterloo. Ultimately, Lucy discovers that while George IV remained a subject of scathing satire, revolution in Britain was quelled during his reign and the monarchy was saved.
In the exclusive clip below, Lucy recounts the King's 1820 visit to Edinburgh, Scotland, plus the history of tartan.

Lucy Worsley's Royal Myths & Secrets: George IV and The Regency premieres Sunday, September 5, at 8 PM ET, on PBS (check your local listings) series. The episode will stream simultaneously with the broadcast and be available on all station-branded PBS platforms, including PBS.org and the PBS Video app.
__________________
As an affiliate of Amazon and other companies, ads & affiliate links on this blog allow us to earn income from qualifying actions and purchases (at no extra cost to you).

Share this post/page.

Lucy Worsley's Royal Myths & Secrets: Exclusive Clip from Next New Episode