Stateside fans of Frankie Drake Mysteries are in for a special treat when the show's Music at Midnight concert special premieres in the US next week.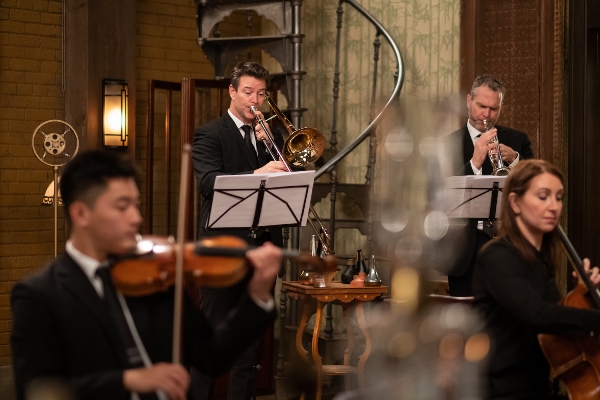 A co-production of Ovation TV, the Toronto Symphony Orchestra (TSO), and Shaftesbury, the Frankie Drake Mysteries: Music at Midnight concert special features performances from series stars Chantel Riley (who plays private detective Trudy Clarke) and Sharron Matthews (who plays morgue attendant Flo Chakowitz) alongside series composer Robert Carli and members of the TSO.
Filmed following strict safety protocols during the COVID-19 pandemic, this special concert takes place on the set of Frankie Drake Mysteries in Toronto, Canada. In addition to giving the series' fans the opportunity to see and hear something different and unexpected, it serves as a way to demonstrate the producers' ongoing commitment to live performance and to showcase Frankie Drake Mysteries and the TSO's ability to adapt and expand through creative collaborations.
Said Scott Woodward, EVP Programming and Production, Ovation:
"Having the Toronto Symphony Orchestra perform on the Frankie Drake set was an amazing opportunity to combine Ovation's mission of celebrating artistic expression with a fan-favorite drama series. Mixing the art of storytelling with the art of music is the perfect blend of programming that Ovation is always looking to share with our audience."
Check out this exclusive clip about the concert special:

Frankie Drake Mysteries: Music at Midnight premieres in the US next Saturday, September 25, at 7 PM ET / 4 PM ET, on Ovation TV — one week before the linear TV debut of Frankie Drake Mysteries: Season 4 during the network's Mystery Alley programming block starting Saturday, October 2, at 7 PM ET.
__________________
As an affiliate of Amazon and other companies, ads & affiliate links on this blog allow us to earn income from qualifying actions and purchases (at no extra cost to you).

Share this post/page.

Frankie Drake Mysteries: Music at Midnight: Check Out Exclusive Clip about Concert Special