Acorn TV announced today the multi-region release dates for its new Original series Dalgliesh, starring Bertie Carvel. Check out the trailer.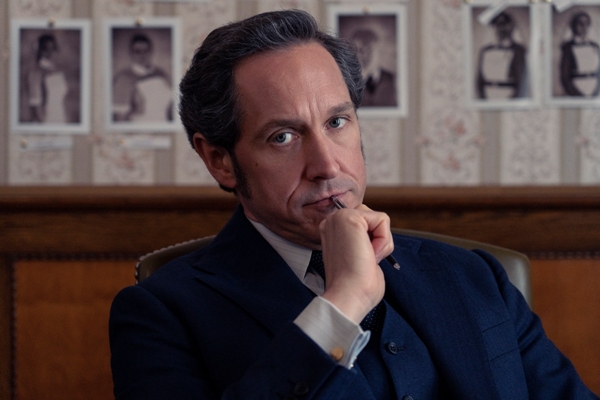 Adam Dalgliesh, one of Britain's finest literary investigators, will soon be returning to our screens, this time in the Acorn TV Original series Dalgliesh.
Adapted from celebrated author P.D. James's best-selling "Adam Dalgliesh Mysteries" series of novels, this intriguing new mystery-crime drama stars Bertie Carvel (Jonathan Strange & Mr Norrell, The Tragedy of Macbeth, Doctor Foster) as the titular, enigmatic detective and poet in three two-part mysteries — each featuring its own setting and cast.
Similar to other distinguished detectives, such as Sherlock Holmes and Hercule Poirot, Adam Dalgliesh takes us through 1970s England as he solves unusual murders, including the poisoning of a nursing student, the double murder of a homeless man and former MP, and the suspicious deaths at a care home.
Dalgliesh premieres in the US, Canada, New Zealand, and Australia on Monday, November 1, exclusively on Acorn TV. The series will debut on Acorn TV in Argentina, Chile, and Mexico on Thursday, November 4.
The series opens with the two-part "Shroud for a Nightingale," in which DCI Adam Dalgliesh is sent to a nursing school to investigate the death of Heather Pearce, a student poisoned during a demonstration. As he begins to uncover the secrets that infect the school, another student nurse at Nightingale House dies, and Dalgliesh must intensify his hunt for the murderer. A private patient who died at the on-site hospital might hold the answer, but Dalgliesh's curiosity puts his own life in danger.
In "The Black Tower," Dalgliesh delves into a series of suspicious deaths at a mysterious care home for the disabled on the Dorset coast; both episodes premiere on November 8. And the final two-parter of this season, which debuts on November 15, is "A Taste for Death," in which Dalgliesh investigates the double murder of a homeless man and a recently-resigned Tory MP, both of whose throats were slashed in a London church.
Guest stars in the series include Jeremy Irvine (War Horse), Natasha Little (War of the Worlds), and Mirren Mack (Sex Education).
The lead writer for Dalgliesh is award-winning screenwriter and playwright Helen Edmundson (Mary Magdalene, An Inspector Calls, The Suspicions of Mr Whicher), who is joined by Stephen Greenhorn (Doctor Who). Lead director Jill Robertson (Trainspotting) is joined by Andy and Ryan Tohill (The Dig) and Lisa Clarke (Sanditon). The producers include Georgie Fallon (Criminal: UK), Martin Mahon (Game of Thrones), and Emily Russell (Murder in Mind). The executive producers are Elaine Pyke, Willow Grylls, and Charlie Pattinson for New Pictures.
__________________
As an affiliate of Amazon and other companies, ads & affiliate links on this blog allow us to earn income from qualifying actions and purchases (at no extra cost to you).

Share this post/page.

Dalgliesh: Acorn TV Sets Multi-Region Premiere Dates for New Mystery Series