Season 22 of the ever-popular Midsomer Murders is set to return to our screens with a highly-entertaining murder mystery story.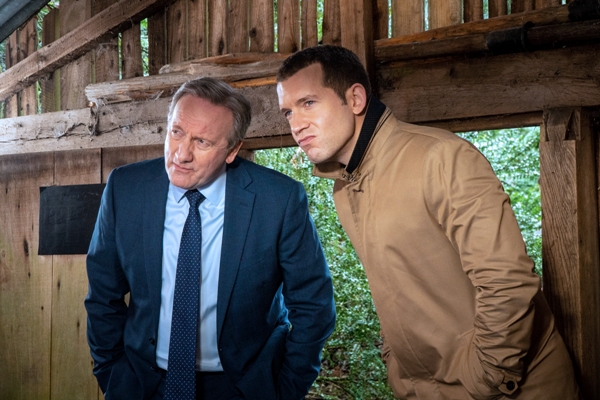 As the countdown continues to Neil Dudgeon's 50th episode as DCI John Barnaby on Midsomer Murders, the hugely-popular series returns tomorrow with Part 2 of Season 22.
The season's third episode, "Happy Families," is chock-full of guest stars, including Caroline Quentin (Doc Martin), Rachael Stirling (Bletchley Circle), Georgina Rich (River), Vanessa Emme (Dublin Murders), and Adrian Edmondson (Summer of Rockets).
The story opens at the island mansion of board game impresario Victor Karras and his wife, Eleanor (Stirling), during his birthday party — a celebration that includes a murder mystery weekend put on by mystery writer Helen Welles (Quentin). Except the murder is real and Victor is the victim.
Elsewhere in Midsomer County, John Barnaby is in a foul mood. Before the row with his wife, Sarah (Fiona Dolman), gets even more heated, he is saved by the bell — a call from DS Jamie Winter (Nick Hendrix) — and sets off to the Karras crime scene, which is only accessible by a ferry. Once there, Chief Pathologist Dr. Fleur Perkins (Annette Badland) informs Barnaby that Karras didn't die from the apparent wound but by poisoning.
So who amongst the party's attendees had the motive, means, and opportunity to do the dirty deed? Eleanor? Her sister (Rich) or stepdaughter (Emme)? Victor's personal assistant?
Well, Barnaby and Winter have plenty of time to interrogate the group, search for clues, and use their detective skills to solve the crime, as a freak accident breaks the ferry's mooring chain, setting it adrift. So everyone on the island, where there is little to no mobile reception and no internet connection, is stuck there for a while.
The plot thickens when one of the attendees is very nearly killed, while another is actually done in, leaving Barnaby and Winter with two murders and an attempted murder to solve.
"Happy Families" is a cracking good story, with twists and turns, red herrings, puzzles of different sorts, and humor. There's even a bit of pre-Halloween spookiness in a scene with Fleur on the ferry. And seeing Barnaby in a yellow mac and rain hat made me think of (a clean-shaven) Gorton's Fisherman.
Additional cast members in the episode include Paul Bazely (Quiz), Greg Lockett (The Crown), Stuart Milligan (Jonathan Creek), Aki Omoshaybi (Queens of Mystery), and Ed White (Hollyoaks).
Midsomer Murders: Season 22: Happy Families premieres tomorrow, Monday, September 27, exclusively on Acorn TV. New episodes debut weekly on Mondays through October 18.
__________________
As an affiliate of Amazon and other companies, ads & affiliate links on this blog allow us to earn income from qualifying actions and purchases (at no extra cost to you).

Share this post/page.

Midsomer Murders: Season 22 Returns with a Cracking Good Whodunit