Check out the trailer for the new season of Code 404, the buddy cop comedy starring Daniel Mays and Stephen Graham, arriving on Peacock in September.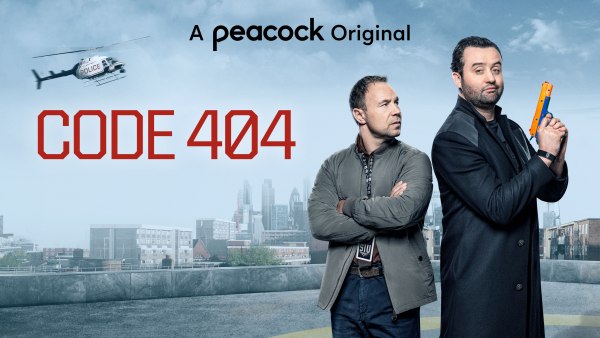 By and large, viewers know Daniel Mays (Des, Ashes to Ashes) and Stephen Graham (Time, The Virtues) from their work in drama. In Code 404, the BAFTA-nominated actors get to put their comedy chops to work playing DI John Major (Mays) and DI Roy Carver (Graham) — best friends and best-of-the-best detectives at the Special Investigation Unit (SIU), an elite undercover police team.
Season 1 saw the partners in a sting operation that goes sideways and ends with the death of Major. Except he doesn't stay dead, thanks to AI technology. His resurrection a year later comes as a shock to both Carver and Major's widow/wife, Kelly (Anna Maxwell Martin, Motherland), who had been getting friendly (ahem) even before the tragedy and started living together after it. Major 2.0 also comes with software glitches. Despite this, he and the long-suffering Carver crack a high-profile case and Major finally reaches his potential as the top cop in the SIU.
In Season 2, Major still has bugs to be patched, but the partnership between him and Carver is over and the pair go their own ways — owing to said situation between his ex-partners in work and life. However, when a 20-year-old cold case is reopened, the two detectives find themselves back together and thrown into the action.
Reprising their roles for the six-episode new season are Rosie Cavaliero (Hold the Sunset) as John and Roy's boss, DCS Dennett, and Amanda Payton (Trial & Error) as Dr. Parfit. Joining the cast are Meera Syal (Goodness Gracious Me) and Clive Russell (Game of Thrones).
Code 404, a Peacock Original series, premieres in the US in its entirety on Thursday, September 23, exclusively on Peacock.
__________________
As an affiliate of Amazon and other companies, ads & affiliate links on this blog allow us to earn income from qualifying actions and purchases (at no extra cost to you).

Share this post/page.

Code 404: Peacock Sets US Premiere Date & Drops Trailer for Season 2 of Cop Comedy