Acorn TV has set the North American premiere date for Whitstable Pearl, the Acorn TV Original mystery series starring Kerry Godliman.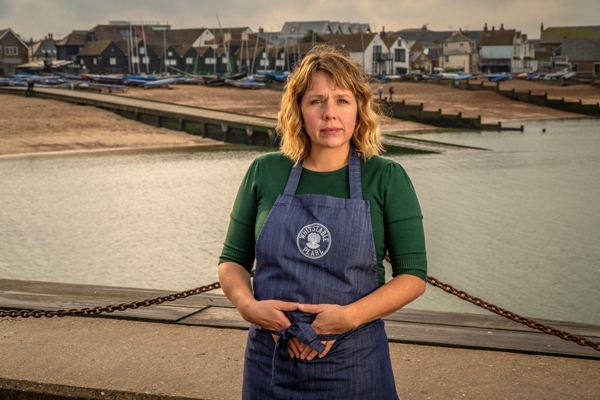 Based on the acclaimed and much-loved "Whitstable Pearl Mysteries" novels by TV drama writer and author Julie Wassmer (EastEnders), Whitstable Pearl stars Kerry Godliman (After Life, Save Me, Derek) as Pearl Nolan, an ambitious and big-hearted restaurant owner and private detective in the English seaside town of Whitstable.
Located just miles from London, the picturesque 16th century town of Whitstable, famous for its native oysters, is also a place where dark undercurrents of murder and debauchery swirl beneath the surface. It is here that local restaurateur Pearl Nolan has just opened her detective agency — a dream long delayed by an unplanned pregnancy that derailed her police career.
In the series opener, the body of a close friend of Pearl is found under mysterious circumstances. Pearl suspects foul play and ends up teaming up with DCI Mike McGuire (Howard Charles, The Musketeers, Liar), the new Kent police chief who has just transferred from London, to learn the truth.
The second episode sees an estate agent found tied up with evidence of having been tortured, leaving McGuire baffled over what could have driven someone to act so viciously. Meanwhile, Pearl investigates a string of anonymous donations, leaving her to wonder if Whitstable has its very own Robin Hood.
And in the third episode, Pearl and Mike find themselves on opposing sides after a Civil War re-enactment ends in tragedy. Their inquiries reveal a community bitterly divided by the memory of a miner's strike and the possibility that there is more to the accident than first meets the eye.
Three more episodes round out the series' first season, which costars Frances Barber (Doctor Who, Silk) as Pearl's mother, Dolly.
Whitstable Pearl, an Acorn TV Original series, premieres in the US and Canada with its first two episodes on Monday, May 24, exclusively on Acorn TV and its digital channels, including Acorn TV on Amazon Channels. New episodes will debut weekly.
__________________
As an affiliate of Amazon and other companies, ads & affiliate links on this blog allow us to earn income from qualifying actions and purchases (at no extra cost to you).

Share this post/page.

Whitstable Pearl: Acorn TV Sets US, Canada Premiere Date for New Mystery Series