Having debuted on BBC One and iPlayer back in January, true-crime thriller The Serpent is set to premiere globally outside of the UK on Netflix next month.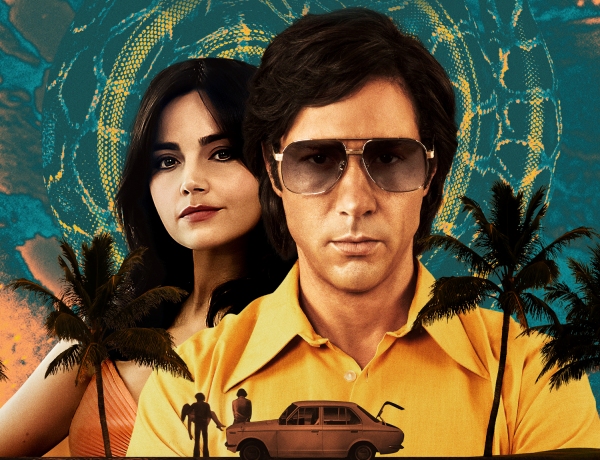 Inspired by real events, The Serpent tells the true story of French conman and serial killer Charles Sobhraj, who targeted and murdered Western tourists in Southeast Asia during the 1970s, and the attempts to bring him to justice.
The Serpent stars Golden Globes® and BAFTA nominee and César Awards winner Tahar Rahim (The Mauritanian, A Prophet, The Last Panthers) as Charles Sobhraj, and BAFTA and International Emmy® Awards nominee and Logie Awards winner Jenna Coleman (Victoria, The Cry, Doctor Who) as Marie-Andrée Leclerc, Sobhraj's girlfriend.
Posing as a gem dealer, Sobhraj traveled with Leclerc across Thailand, Nepal, and India along what was known as the Asian portion of the "Hippie Trail" in 1975 and 1976, where they went on a crime and killing spree and became the chief suspects in a series of murders of young Western travelers.
When a young Dutch couple goes missing after last having been seen alive at Sobhraj's apartment, Herman Knippenberg (Billy Howle, MotherFatherSon, The Witness for the Prosecution), a junior diplomat at the Dutch Embassy in Bangkok, sets about making inquiries into their disappearance with help from his wife, Angela (Ellie Bamber, The Trial of Christine Keeler, Les Misérables) — only to discover something more shocking and sinister had happened.
Knippenberg's inquiries set off an extraordinary chain of events — from investigations by police organizations from around the world, to Sobhraj becoming Interpol's most wanted man, with arrest warrants in multiple countries on several continents.
Filmed in Thailand and the UK, the eight-part limited series costars Amesh Edireweera (Shakespeare Live: The Tempest) and Tim McInnerny (The Windermere Children).
Produced by Mammoth Screen, The Serpent is a co-production between BBC One and Netflix. It is written by Richard Warlow (Waking the Dead) and Toby Finlay (Ripper Street), and directed by Tom Shankland (The Missing) and Hans Herbots (Riviera). The producer is Stephen Smallwood, and the executive producers are Richard Warlow, Tom Shankland, Preethi Mavahalli and Damien Timmer for Mammoth Screen.
The Serpent, a Netflix Original series, premieres globally outside of the UK on Friday, April 2, exclusively on Netflix. (You can set a reminder for it now.)
__________________
As an affiliate of Amazon and other companies, ads & affiliate links on this blog allow us to earn income from qualifying actions and purchases (at no extra cost to you).

Share this post/page.

The Serpent: Netflix Sets Global (Minus UK) Premiere Date for Hit True-Crime Thriller