A detective's mission to bring murderers to justice is the focus of Honour, the riveting true-crime drama that is set to premiere in North America.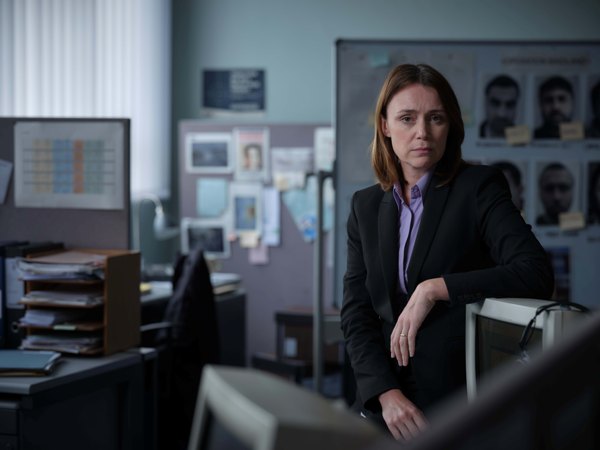 True-crime dramas have been attracting viewers for decades, but their popularity has exploded in recent years, with many titles considered must-watch fare within the sub-genre. Count Honour amongst them.
Originally aired as a two-part drama on ITV, viewers on this side of the pond will be able to watch the story as a two-hour movie on BritBox.
Honour stars Keeley Hawes (The Durrells in Corfu, Bodyguard) as the newly-promoted DCI Caroline Goode, who, after being briefed about a young Iraqi Kurdish woman's disappearance, leads a team to find her. Banaz Mahmod was reported missing by her boyfriend, Rahmat Sulemani — not her parents. Caroline determines that Banaz is a high-risk missing person, given that the 20-year-old Londoner had gone to the police several times over a period of roughly six weeks to report that her family had threatened to kill her and her boyfriend because they didn't approve of the relationship. She even gave the officers a list of names, but they didn't believe her and thus didn't do anything to help her. Then Banaz vanished and all communication with Rahmat stopped. Is she alive or dead?
So not only is Goode working like crazy to find Banaz, assumed to be alive, she is working to right a giant wrong perpetrated by fellow coppers. Five wrongs, actually — one for each time Banaz went to the police and they did nothing to help the terrified girl.
As Goode and members of her team learn more details from Rahmat, Banaz's sister Bakhal, community liaison Diana Nammi, and their own digging, the missing person case is escalated to a murder inquiry into what is known as an "honour killing." Now Caroline and co. must find evidence, including Banaz's body, if they have any chance of delivering justice to the victim.
Banaz's story is devastatingly tragic. I had a knot in my stomach and tears in my eyes hearing what the poor girl had endured as I watched Keeley Hawes's character get emotional as the SIO on the case. As DCI Goode, Hawes delivers another fine performance — being outraged at what she sees is dereliction of duty, compassionate toward those who are scared and hurting, insistent that her team do all that is necessary to bring Banaz's murderers to justice.
Equally as compelling are the deep, heartfelt performances of Moe Bar-El (The Bureau), Rhianne Barreto (Hanna), and Ahd (Collateral) — who, as Rahmat, Bekhal and Diana, respectively, give viewers a sense of the impact of the crimes against Banaz on her and them, as well as context for her murder within the realm of honour killings.
Written by Gwyneth Hughes (Vanity Fair, Five Days) and directed by Richard Laxton (Mum, Mrs. Wilson), Honour costars Mark Stanley (Sanditon), Alexa Davies (The Murders at White House Farm), Michael Jibson (Quiz), and Amanda Lawrence (Above Suspicion).
Honour, a BritBox Original, premieres in North America tomorrow, Tuesday, February 16, exclusively on BritBox and its digital channels, including BritBox on Amazon.
__________________
As an affiliate of Amazon and other companies, ads & affiliate links on this blog allow us to earn income from qualifying actions and purchases (at no extra cost to you).

Share this post/page.

Honour: Gripping Drama About Real-Life Police Investigation Premieres in North America