Acorn TV announced today its recommission with Acorn Media Enterprises of Agatha Raisin for a fourth series, once again starring Ashley Jensen as the eponymous sleuth.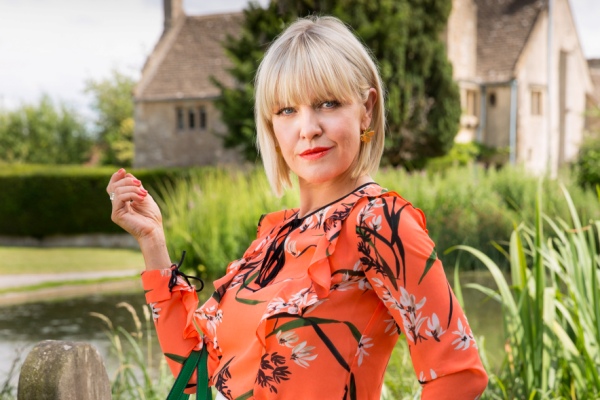 Based on M.C. Beaton's best-selling "Agatha Raisin Mystery" novels and starring Emmy® Awards nominee Ashley Jensen (After Life, Catastrophe, Ugly Betty), comic mystery series Agatha Raisin follows Agatha, a former high-powered London PR guru-turned-amateur sleuth-turned professional private investigator, as she works in her own unorthodox and often amusing ways to solve crimes in Carsely, the small, picturesque, and deceptively devious Cotswolds village to which she had retired before her new career.
Said Ashley Jensen:
"I am overjoyed to be returning as Agatha Raisin. A role I love playing and a show that is very close to my heart. I am excited to see what's in store for Agatha and her merry band of misfits in Series 4."
Also reprising their roles for the new season are Mathew Horne (Gavin & Stacey) as Roy Silver, Jamie Glover (Waterloo Road) as James Lacey, Jason Merrells (Safe House) as Sir Charles Fraith, Lucy Liemann (Rev.) as Sarah Bloxby, Matt McCooey (The Salisbury Poisonings) as DS Bill Wong, Jason Barnett (Bridgerton) as Inspector Wilkes, and Marcia Warren (Vicious) as Mrs. Boggle.
Like Series 3, Series 4 will adapt four novels into three feature-length episodes and a winter special. They bring the total number of "Agatha Raisin Mystery" TV adaptations to twenty. The new episodes include:
"Kissing Christmas Goodbye" — With business booming for the Agatha Raisin Detective Agency, Agatha is in need of a well-earned break, and with Christmas just around the corner, it looks like the perfect opportunity to relax. However, when she receives a letter from an old lady begging for protection, Agatha can't help but spring into action.
"Love, Lies and Liquor" — James has finally returned to Carsely and has promised to whisk Agatha away on holiday, where she can help him write his next novel. Her dreams of the French Riviera quickly fade when she finds herself in Snoth-on-Sea, a seaside resort whose glory days are far behind it. When a hotel guest is found murdered, it's up to Agatha to prove who the killer is.
"A Spoonful of Poison" — The competition to be crowned winner of the Carsely Jam-Off has always been fierce, but when the prize jam is poisoned, leading to the death of a judge, things have gone too far. So Agatha resolves to both bring the killer to justice and restore the competition's name.
"There Goes The Bride" — Agatha reluctantly promises to support James by attending his wedding, but when a body is found on the morning of the big day, Agatha and the gang to come to the rescue.
Production will start in March on Series 4, which will debut as an Acorn TV Original series exclusively on Acorn TV in late 2021/early 2022.
A production of Free@Last TV in association with all3media international, Agatha Raisin: Series 4 is produced by Free@Last TV's Barry Ryan and David Walton, executive produced by Catherine Mackin for Acorn Media Enterprises and Michele Buck for Company Pictures, and co-produced by Charles Palmer and Mick Panteleo, with Ian Strachan as line producer.
Stay tuned for updates.
__________________
As an affiliate of Amazon and other companies, ads & affiliate links on this blog allow us to earn income from qualifying actions and purchases (at no extra cost to you).

Share this post/page.

Agatha Raisin: Acorn TV Renews Fan-Favorite Mystery Series for Fourth Season