There's a lot happening in the world of British and Canadian TV in the US, so let's get to it.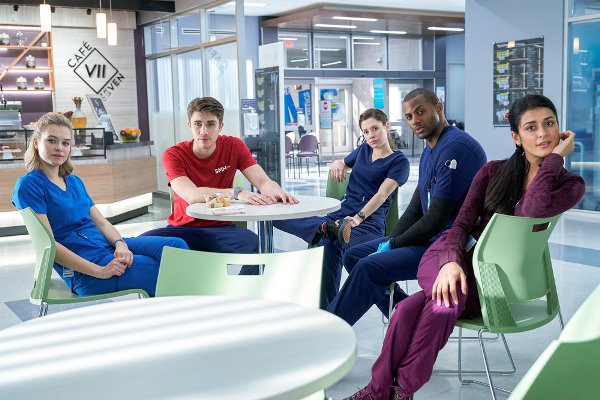 I Hate Suzie
HBO Max has released its official trailer for I Hate Suzie, the new comedy-drama starring series co-creator and co-writer Billie Piper (Doctor Who, Penny Dreadful). She plays Suzie Pickles, a star on the wane whose life is upended when her phone is hacked and a photo of her in an extremely compromising position is released for the whole world to see.
The eight-episode series follows the various stages of Suzie's trauma — shock, denial, fear, shame, bargaining, guilt, anger, and acceptance — as Suzie and her best friend and manager, Naomi (Leila Farzad, Innocent), try to hold her life, career, and marriage together in the face of being exposed for who she truly is. But who the heck is that?
Take a looksie.
I Hate Suzie, a Max Original series, premieres in the US in its entirety this Thursday, November 19, exclusively on HBO Max (which, by the way, is now available on Fire TV and Fire tablets).
The Long Call
ITV has commissioned The Long Call, a new four-part crime drama inspired by the best-selling novel of the same name from award-winning writer Ann Cleeves, the creator of the beloved DCI Vera Stanhope and DI Jimmy Perez characters seen in the mystery TV series Vera and Shetland. (When I last interviewed Ann, she mentioned she was working on a new book series, which we now know is "The Two Rivers" series, of which The Long Call is the first title.)
Adapted by Kelly Jones (Des, Baptiste) and produced by Silverprint Pictures (Flesh and Blood), the atmospheric, character-led drama follows the flawed and intriguing Detective Inspector Matthew Venn, who has returned to live in a small community in North Devon with his husband, Jonathan. It's a place Matthew walked away from 20 years ago, after being rejected by his family.
We first meet the reserved but intense Matthew Venn outside the local church as his father's funeral takes place. Sadly, the day Matthew turned his back on the strict evangelical community in which he grew up, he lost his family, too. Now he's back, not just to mourn his father from a distance, but to take charge of his first major murder case: A body has been found on the beach near Matthew's new home — a man with the tattoo of an albatross on his neck, stabbed to death.
Through Venn and his team's investigation, we meet a rich ensemble of characters in a compelling crime story that captures the stark beauty of the North Devon coastline, and a community where murder and intrigue bubble beneath the surface.
There has been no word yet about a streaming or linear TV channel picking up The Long Call for the US, so stay tuned for updates.
Manhunt II: The Night Stalker
Fans of Manhunt, rejoice! ITV has commissioned Manhunt II: The Night Stalker, another true-crime drama starring Martin Clunes as DCI Colin Sutton, a former detective of the London Metropolitan Police. Based on Sutton's diaries, this four-part sequel tells the real-life story of the police pursuit of a notorious serial rapist, whose 17-year reign of terror left thousands of elderly people in south east London living in fear.
Produced by Buffalo Pictures, Manhunt II: The Night Stalker is written by Ed Whitmore (Silent Witness, Rillington Place), who also penned the first series of Manhunt, which told the real-life story of how Sutton and his team linked three murders to each other and to the killer in the early 2000s.
Filming of the limited series has started, with its debut in the UK expected next year. Stay tuned for updates about a US premiere. (We're assuming there will be one.)
Nurses
Given the success of Canadian medical drama Transplant on NBC, the Peacock network has picked up another: the Toronto-set Nurses, which follows five young nurses working on the front lines of a busy downtown hospital, dedicating their lives to helping others while struggling to help themselves.
The 10-episode series stars Tiera Skovbye (Riverdale), Natasha Calis (The Posession), Jordan Johnson-Hinds (Blindspot), Sandy Sidhu (Home Before Dark), and Donald MacLean Jr. (Workin' Moms).
Preview episodes of Nurses will air Mondays, December 7 and 14, at 10 PM ET, on NBC, before moving to its regular Tuesday time slot starting January 5 at 10 PM.
The Rig
Prime Video has commissioned The Rig, the first Amazon Original series to be filmed exclusively in Scotland. Set on the Kishorn Bravo oil rig, situated off the Scottish coast in the North Sea, the six-part thriller follows the rig's crew, who find themselves cut off from all communication after an all-enveloping fog rolls in — right before they were set to return to the mainland.
During their ordeal with this mysterious fog, bonds are broken, allegiances are formed, and generational fault lines are exposed — driving the crew to the limits of their loyalties and their endurance, into a confrontation with forces beyond their imagination.
Production on the series is scheduled to begin in 2021. A project of Wild Mercury Productions (Troy: Fall of a City), it is created by new writer David Macpherson and directed by John Strickland (Line of Duty, Bodyguard).
The Rig will launch exclusively on Prime Video in more than 240 countries and territories. Stay tuned for updates.
Trickster
Another American broadcast network bringing more Canadian TV south of the border is The CW, which has acquired Trickster, the supernatural drama created by Michelle Latimer (Rise, Frontier) and Tony Elliott (Orphan Black, 12 Monkeys).
Based on the best-selling novel Son of a Trickster, Book 1 in Eden Robinson's "The Trickster Trilogy," the series stars Joel Oulette (Parallel Minds) as Jared, an Indigenous teen struggling to keep his dysfunctional family above water. But when he starts seeing strange things — talking ravens, doppelgängers, skin monsters — his already chaotic life is turned upside down.
The cast includes Crystle Lightning (Outlander), Kalani Queypo (Jamestown), Anna Lambe (The Grizzlies), Joel Thomas Hynes (Little Dog), Craig Lauzon (Royal Canadian Air Farce), Gail Maurice (Cardinal), and Georgina Lightning (Blackstone).
Trickster premieres in the US on Tuesday, January 12, at 9 PM ET/PT, on The CW.
But wait, there's more Canadian TV, and British TV too, headed to The CW!
The upcoming fourth season of Canadian legal drama Burden of Truth and third season of mystery-crime drama Coroner will air on the network next year. The former stars Kristin Kreuk (Smallville) and Peter Mooney (Rookie Blue) as Joanna Chang and Billy Crawford, partners in life and at their law firm, who take on big legal battles in their small town. The latter stars Serinda Swan (Graceland) as Dr. Jenny Cooper, a coroner who investigates mysterious deaths in Toronto.
Also returning is the British buddy-cop drama Bulletproof, starring Ashley Walters (Top Boy) and Noel Clarke (Doctor Who). The upcoming third season is a three-part special in which NCA (National Crime Agency) agents Ronnie Pike (Walter) and Aaron Bishop (Clarke) travel to South Africa to investigate the country's criminal underworld.
The CW has not announced the 2021 premiere dates for these three series yet, so stay tuned for updates.
__________________
Ads & affiliate links on this blog allow us to earn income from qualifying actions and purchases (at no extra cost to you).

Share this post/page.

News Bits: New Ann Cleeves Adaptation, Another 'Manhunt' + 'Nurses' & Much More