Acorn TV has set the premiere date for its latest Acorn TV Original series, the Irish drama The South Westerlies, for both sides of the pond and Down Under.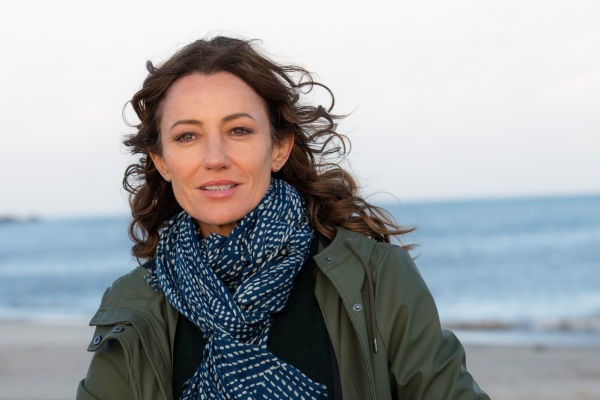 Irish TV fans, mark your calendars for The South Westerlies, which is set to premiere in its entirety in the US, Canada, UK, Australia, and New Zealand on Monday, November 9, exclusively on Acorn TV.
The lighthearted drama stars Orla Brady (American Horror Story, Into the Badlands, Mistresses) as Kate Ryan, a single working mother and environmental consultant in Dublin, who is on the verge of a lucrative promotion at Noreg Oil and the accompanying transfer to their headquarters in Oslo, Norway. However, the company adds a last-minute caveat, and how Kate fares with it could make or break her promotion.
NorskVentus, Noreg Oil's new wind power subsidiary, has received planning permission for a wind farm offshore from the West Cork town of Carrigeen, but ongoing local protests are creating a PR nightmare. So Kate must go undercover to Carrigeen to quash objections before an appeals deadline, and then smooth the path for imminent turbine installation.
When Kate arrives with her teenage son, Conor (Sam Barrett, The Happy Prince), she faces quite an eco-battle, discovering quickly that the anti-wind farm lobby here is much stronger than NorskVentus led her to believe. Compounding the pressure on Kate to deliver the desired corporate results is the return of an old boyfriend, a crinkly-eyed surfer named Baz Crowley (Steve Wall, Vikings, Dominion Creek), who bears a striking resemblance to Conor.
Soon Kate is feeling the heat from all sides. As tensions from local protestors rise, her old friend, Breege (Eileen Walsh, Catastrophe), who runs the local café, is neither happy with Kate's reappearance nor quick to forgive her neglect over the past fifteen years. She's also figured out why Kate stayed away from Carrigeen for so long.
Then a surfing accident puts everything in perspective.
The cast of the six-episode series includes Patrick Bergin (Sleeping with the Enemy), Ger Ryan (Raw), Kevin Ryan (Copper), Stephen Lord (Penny Dreadful), Julian Michael Deuster (X Company), and Kyrre Haugen Sydness (Beforeigners), and features Sorcha Cusack (Father Brown) in a memorable guest role as Kate's mother, Goldie.
The South Westerlies is produced by Ireland's Deadpan Pictures in association with RTÉ, Acorn TV with its UK-based development division Acorn Media Enterprises, ZDF Enterprises, and Screen Ireland.
__________________

Share this post/page.

Outbound links on this page include non-affiliate links and affiliate links; the latter allows us to earn income from qualifying actions.
The South Westerlies: Acorn TV Sets Premiere Date for New Irish Drama