Before Christopher Eccleston returns to Doctor Who (in audio form), folks can catch him and Paula Malcomson in the drama Come Home, which premieres in the US tomorrow.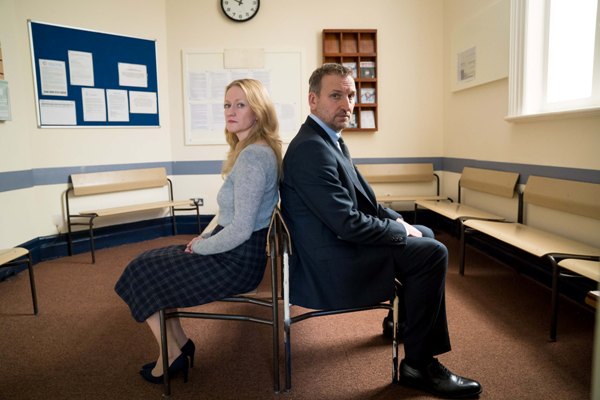 Come Home stars Christopher Eccleston (Doctor Who, The A Word, The Leftovers) and Paula Malcomson (Ray Donovan, Broken, Deadwood) as Greg and Marie, a now-estranged couple after she left him and their three children. Their story is told in three parts.
The first follows Greg. He has been taking care of son Liam (Anthony Boyle, Ordeal by Innocence) and daughters Laura (Lola Petticrew, Next of Kin) and Molly (newcomer Darcey McNeeley) since Marie, his wife of nineteen years whom he loves deeply, walked out eleven months ago — for no reason, as he sees it.
After a disaster of a Tinder-type date, Gary saves food truck owner Brenna (Kerri Quinn, Coronation Street, Derry Girls) from being beaten by her abusive husband. Soon the pair are an item, with Brenna and her young son moving into Greg's house for the safety of mum and child as well as for the burgeoning relationship between the two separated spouses and parents. But this arrangement proves to be a negative in the eyes of many.
The second part follows Marie. She felt like she was drowning in her life as a wife and mother, so she fled to save herself. With a new home and a new job, Marie is starting her life over, with fun meet-ups and hook-ups thanks to dating apps and bars. But she hasn't been telling the truth. And now she feels like she's drowning in her lies. One night, after a fateful reunion, Marie sees Laura in a state and comforts her — a moment that sets off the events to come.
Both Greg and Marie have flashbacks in the first two episodes — he to happier times, she to stress-filled ones. In the final episode, they end up in court, and we learn the situations and circumstances that Marie had with Greg that led to her departure and to their current legal battle.
Quite often programs are criticized for being unrealistic in some way: the story isn't plausible, the characters are caricatures, etc. Not so with Come Home. It is quite real — from the child with stress-induced bed-wetting and the friend with feelings of betrayal, to the lover acting on their insecurities and the husband pleading for his wife to come home.
Eccleston and Malcomson are brilliant as Greg and Marie, each broken in some way but doing his or her best to remain or to become intact. The rest of the cast deliver strong performances, as well, including those in supporting roles that have a major impact in the story, such as Brid Brennan (Unforgotten), who plays Marie's straight-talking, no-BS mum.
Also featuring in the limited series are Patrick O'Kane (Doctor Who), Susan Ateh (Redwater), Derbhle Crotty (Notes on a Scandal), Rory Keenan (Striking Out), Edward MacLiam (DCI Banks), and Brandon Brownlee (Santa's Grotty).
Created by Danny Brocklehurst (Brassic, Safe), who won the 2018 Royal Television Society Northern Ireland Awards for Drama for this show, Come Home premieres in the US tomorrow, Thursday, August 13, exclusively on Topic and its digital channels, including Topic on Amazon Channels, Roku, etc.
(Viewers across the pond can stream the miniseries on Amazon Video UK.)
__________________

Share this post/page.

Outbound links on this page include non-affiliate links and affiliate links; the latter allows us to earn income from qualifying actions.
Come Home: Christopher Eccleston-Paula Malcomson Drama Is Compelling Viewing