Hands down, Brassic is one of the best British TV series to premiere in the US this year.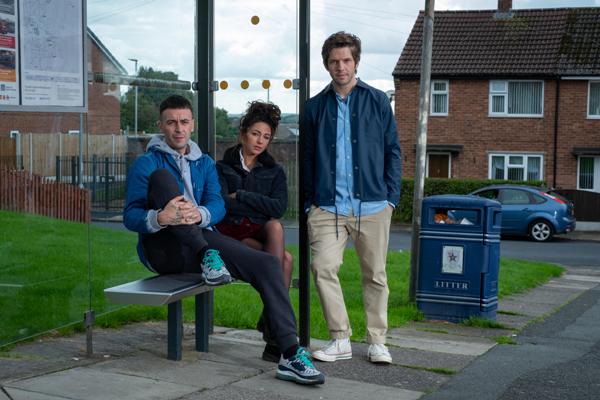 Its second season was commissioned before the first had even aired on Sky One. Ditto for Season 3, which was renewed before Season 2 launched in the UK. And it's a "Best Comedy" nominee at the 2020 Broadcasting Press Guild Awards and the 2020 TV Choice Awards.
It is Brassic, the hit British comedy-drama created by series star Joseph Gilgun (Preacher, Misfits, This Is England '90/'88/'86) and Danny Brocklehurst (The Stranger, Safe, Shameless), nominated for Brassic in the "Best TV Situation Comedy" category at the 2020 Writers' Guild of Great Britain Awards.
Brassic follows Vinnie O'Neill (Gilgun), "a bipolar thief that lives in the woods," and his crime-minded friends in the (fictional) town of Hawley in Lancashire.
Reminiscent of Shameless (the original British TV series) and Snatch (the film), Brassic is brilliant from start to finish — filled with quirky characters, clever storylines, laugh-out-loud dialogue and action, and authentic, heartfelt moments.
Vinnie and his best mate Dylan (Damien Molony, GameFace, Suspects), a book-smart guy with mad poker skills, are thick as thieves. Theirs is a close and codependent friendship, one that usually finds Dylan going against his better judgment and saying okay to Vinnie's schemes, even though it could get him into massive trouble with his girlfriend Erin (Michelle Keegan, Our Girl, Coronation Street).
If anyone in Vinnie's group of friends has a good head on their shoulders, it's Erin — a single mum, a uni student, and a woman working toward a better life. That probably means leaving Hawley, but just the mention of moving has caused Vinnie to experience bouts of separation anxiety and Dylan to stress about "should I stay or should I go" — remain with the mates he's been close friends with for practically forever, or leave with Erin, the love of his life.
For the time being, the couple are still in Hawley, where Vinnie & co get up to no good on a regular and frequent basis — from robbing safes, to selling stolen antiques, to stealing whatever is required, such as weed plants, koi fish, or a Shetland pony.
In addition to Dylan, Vinnie's other partners in crime are "Cardi" (Tom Hanson, The Little Drummer Girl), a teddy bear of a guy with a pet pigeon and a stutter; Ash (Aaron Heffernan, Love/Hate), a gay Irish lad who bare-knuckle fights and provides muscle when necessary; Tommo (Ryan Sampson, Plebs), a perv with a sex dungeon for holding secret S&M nights for well-paying locals; and J.J. (Parth Thakerar, Gangs of London), owner of an auto repair (and chop) shop who provides Vinnie with vehicles and tech help.
Often proving to be less helpful to Vinnie are Dr. Chris Cox (Dominic West, The Affair), his G.P., and Jim (Steve Evets, Rev.), the farmer whose underground bunker is home to Vinnie's weed farm.
Brassic can be rude and crude, but these aspects combine with warm and tender moments to create a show that showcases the good, bad, and ugly of friendship. In a word, it's real — and therein lies the beauty and brilliance of the show.
Featuring in the first season are Jude Riordan (Katy) as Erin's son Tyler; Ruth Sheen (Unforgotten) as publican Kath; Anthony Welsh (Hanna) as Jake, a uni student with eyes for Erin; and Ramon Tikaram (Pennyworth) as Terence McCann, a career criminal that Vinnie inadvertently runs up against.
Brassic: Season 1 premieres in the US tomorrow, July 31, exclusively on Hulu. Check it out!
__________________

Share this post/page.

Outbound links on this page include non-affiliate links and affiliate links; the latter allows us to earn income from qualifying actions.
Brassic: Binge-Watch the US Premiere of This Brilliant British Comedy-Drama