Isolation Stories, a series of short-form dramas filmed by locked-down actors and their families in England during the ongoing pandemic, is quite lovely.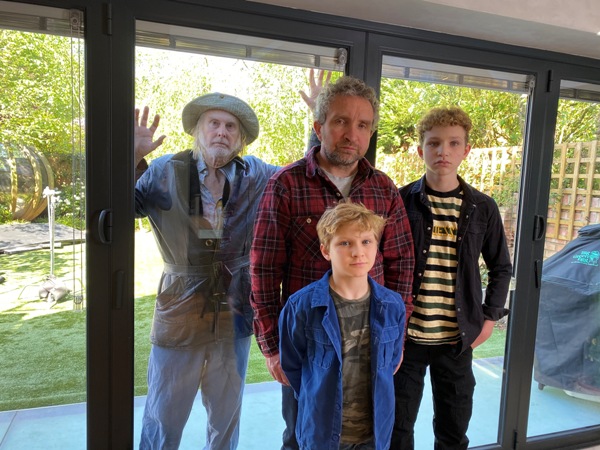 I had no idea of what to expect from Isolation Stories, but I assumed it would be good by virtue of it being co-written and co-executive produced by Oscar® nominee and three-time BAFTA winner Jeff Pope (Philomena, A Confession).
It did not disappoint.
Isolation Stories is a limited series of four 15-minute episodes that reflect what people have been going through after weeks of isolation due to the novel coronavirus pandemic.
The first is "Mel," named for the heavily-pregnant woman played by the equally pregnant Sheridan Smith (The Moorside). Mel's been having a rough go of things even before the pandemic. Now she's isolated alone in her flat, and her baby is due in just three weeks. Video calls with her colleagues and her dad (Philip Jackson, Agatha Christie's Poirot) leave her feeling worse, so she starts making phone videos as a way of venting. Except she sends one to the wrong person…
Robert Glenister (Hustle) and his son Tom Glenister (Vera) play "Ron & Russell" — a man ill with the virus and his son, a former criminal. Ron is weak, often confused, and stays mainly in bed, while Russell, with remote support from his brother Adrian (Michael Jibson, Quiz), does his best to care for his father despite the man's scathing indictment of him as the person who brought shame to the family. But after Russell does a special thing to help keep his dad's spirits up, Ron seems to turn the corner on the virus… and to have done more besides…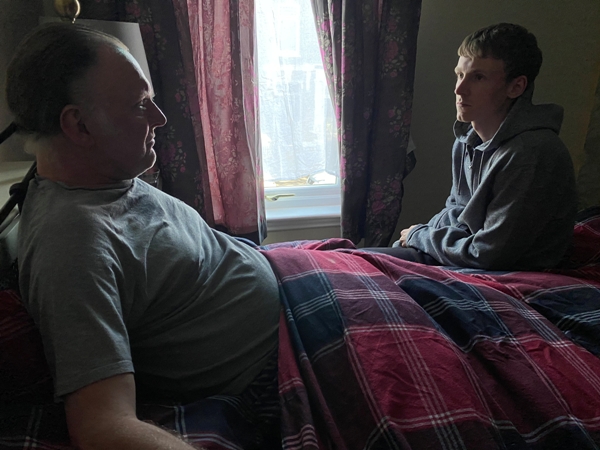 In "Mike & Rochelle," Darren Boyd (Spy) is Mike, a hypochondriac, and Angela Griffin (White Lines) is Rochelle/Roch/Chelle, his psychiatrist. He's in isolation alone in Bristol and losing it, while she's trying to calm him down during his video session. Then a chance remark about something in Mike's fridge turns the tables… and ends with Kool & the Gang.
And in "Karen," Eddie Marsan (Ray Donovan, Little Dorrit) and his sons Bodhi and Blu play Stephen, Jack, and Ryan — the husband and sons of Karen (Leanne Best, Cold Feet), who left Stephen. He won't let her see their children, and he doesn't want her father, Brian (David Threlfall, Shameless), popping by to see them either, despite maintaining the 2-metre distancing guideline. But the old man has a way of connecting with his grandchildren and in reaching his son-in-law.
I got teary-eyed while watching Isolation Stories, and smiled several times too, as the narratives reflect stuff that happens in real life, pandemic or no pandemic — stuff made more difficult to acknowledge, to get a grip on, and to deal with because of being isolated, even if one is locked down with other people — as well as the hope and the goodness that (I believe) are intrinsic in life and in people.
Also worth watching is the behind-the-scenes "making of" episode, which runs 40 minutes and shows how the series was staged, lit, filmed, produced, and directed by the actors, their families, and the remote crew — all while observing the strict rules of lockdown in the UK.
Isolation Stories, a BritBox Original series, which premiered today in North America, is currently available for streaming in the US exclusively on BritBox and its digital channels, including BritBox on Amazon Channels.
__________________

Share this post/page.

Outbound links on this page include non-affiliate links and affiliate links; the latter allows us to earn income for qualifying actions.
Isolation Stories: Touching Stories About Life During Lockdown