Letterkenny, the hilarious, award-winning Canadian comedy series, is back with a new season plus a new series of animated shorts that will have fans chortling, too.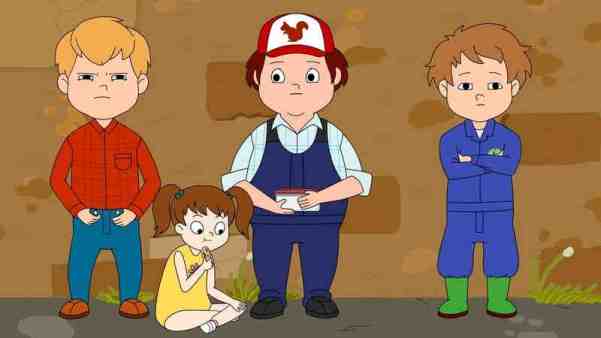 The hicks, the hockey players, the skids, and all the other residents of the titular rural town are back in Season 8 of Letterkenny, the multiple Canadian Screen Awards-winning, TV-MA-rated comedy series created by Jared Keeso (19-2).
The new season finds Wayne (Keeson) getting his heart broken again. His way of coping: holing himself up in a hutch, watching episode after episode of old sitcom Miss Fire. Wayne's sister Katy (Michelle Mylett) and hicks buddies Daryl (Nathan Dales) and Squirrelly Dan (K. Trevor Wilson) sit with him, only outside the hutch, to lend him morale support through his grieving and healing process.
Meanwhile, hockey players Reilly (Dylan Playfair) and Jonesy (Andrew Herr) are winning games in the National Senior Hockey Championship and becoming local celebrities of sorts, while skid Stewart (Tyler Johnston) learns how to fight.
And there's more besides, since there are 5000 people in Letterkenny and they've got problems.
To find out how Wayne, Daryl, and Squirrelly Dan became friends, there's the origin story in Littlekenny, a series of six animated shorts.
Like the live-action series, Littlekenny is laugh-out-loud funny.
Letterkenny: Season 8 and Littlekenny, both Hulu Original series, premiered in the US yesterday exclusively on Hulu.
__________________

Add your comments on our Facebook and Twitter pages.
Share this post/page.

Outbound links on this page include non-affiliate links and affiliate links; the latter allows us to earn income for qualifying purchases and actions made through the links.
Letterkenny & Littlekenny: Season 8 & Animated Shorts of Hit Canadian Comedy Now Streaming in the US