With a second season in the works, the first season of mystery-crime drama The Bay is about to make its debut in the US and Canada on BritBox.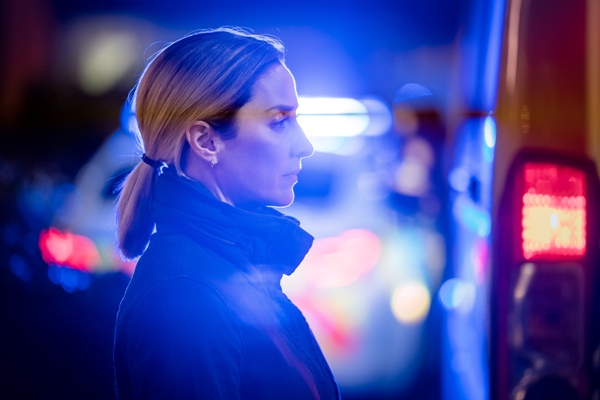 Set in the coastal town of Morecambe, The Bay stars Morven Christie (Grantchester, The A Word) as DS Lisa Armstrong. a single mum of two teens and a Family Liaison officer with the West Lancashire Police.
The morning after a karaoke and drink-filled night out with her mates, Lisa is assigned to the missing persons case of Holly and Dylan Meredith, teen-aged twins who were last seen at the local youth club. She's already on another case, but gets pulled from it as missing kids take precedence over drugs. Adding to the hungover Lisa's annoyance is having to train DC Ahmed "Med" Kharim (Taheen Modak, Van Der Valk).
As it turns out, having a newbie detective shadowing her is the least of Lisa's concerns.
A suspect in the case is the twins' stepfather, Sean Meredith (Jonas Armstrong, Ripper Street, Robin Hood) — the man Lisa hooked up with the night his kids went missing.
This alone could compromise the investigation, but Lisa takes things further.
Then the case becomes a missing person and murder investigation…
Costars in the six-episode first season include Tracie Bennett (Scott & Bailey), Lindsey Coulson (EastEnders), Chanel Cresswell (Trollied), Imogen King (Clique), Matthew McNulty (Versailles), Art Parkinson (Game of Thrones), and Daniel Ryan (Mount Pleasant).
The Bay: Season 1, a BritBox Original series, premieres in North America tomorrow, Tuesday, October 22, exclusively on BritBox.
__________________

Add your comments on our Facebook and Twitter pages.
Share this post/page.




Outbound links on this page include non-affiliate links and affiliate links; the latter allows us to earn income for qualifying purchases and actions made through the links.
The Bay: Dark Mystery-Crime Drama Set to Debut in North America