Just in time for Halloween is the premiere of "Agatha Raisin & the Haunted House," the special that opens the third season of mystery series Agatha Raisin.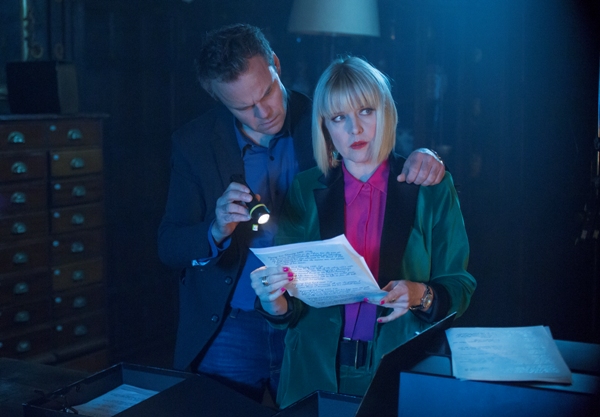 Primetime Emmy® nominee Ashley Jensen (After Life, Catastrophe, Extras, Ugly Betty) is back as Agatha Raisin, the London PR wiz and early retiree-turned-Cotswolds amateur sleuth.
Only now Agatha is a professional private investigator with a proper business office in a renovated chapel in Hebberdon. And she's reconciled with James Lacey (Jamie Glover, Endeavour, Waterloo Road), now her partner in life and unofficial partner in the Agatha Raisin Detective Agency.
However, this isn't a case of "build it and they will come"; hanging her own shingle hasn't brought in any business. But James has an idea that might help.
It is said that Ivy Hall is haunted by the ghost of Sir Geoffrey Lamont, a loyalist to the King who was murdered on the property, presumably by Cromwell's men, in 1651. Legend has it that priceless treasure given by Lamont to his trusted manservant is buried somewhere on the grounds. There's never been any proof that it ever existed, and certainly nothing of the sort has ever been found, but that hasn't stopped Ivy Hall from being "a destination for every plundering, treasure-hunting lunatic for the past four centuries."
More recently, unexplained paranormal activity has been happening at Ivy Hall on a much grander scale, causing the estate's owner, Olivia Witherspoon (Richenda Carey, Fallet, Monarch of the Glen), to fear for her life.
With good reason too, as it turns out, because Olivia is found dead soon after agreeing to Agatha's offer of investigating the spooky goings-on at Ivy Hall.
Now Agatha and James well and truly have a murder mystery on their hands.
"Agatha Raisin & the Haunted House" is based on the novel of the same name by best-selling author M. C. Beaton, who's penned 30 titles for her "Agatha Raisin Mysteries" series to date.
Returning cast members in this special holiday episode of Agatha Raisin include Mathew Horne (Gavin & Stacey) as Roy Silver, Lucy Liemann (Rev.) as Sarah Bloxby, Matt McCooey (Doctors) as DC Bill Wong, Jason Merrells (Safe House) as Sir Charles Fraith, Jason Barnett (Porridge) as DCI Wilkes, and Marcia Warren (Vicious) as Mrs Boggle.
Joining the cast is Jodie Tyack (Unforgotten, Noughts & Crosses) as Toni Gilmour, who covers for her cousin Gemma (Katy Wix) as Agatha's cleaner but is actually much better suited to sleuthing than cleaning.
Guest stars include Mark Aiken (Father Brown), Claire Cox (Jamestown), James Dreyfus (Mount Pleasant), Clare Holman (Inspector Lewis), David Newman (A Discovery of Witches), and Joe Sims (Broadchurch).
Agatha Raisin & the Haunted House premieres in the US and Canada tomorrow, Monday, October 28, exclusively on Acorn TV, and its digital channels, including Acorn TV on Amazon.
The Series 3 regular episodes will debut on Acorn TV in early 2020, including feature-length adaptations of the novels Agatha Raisin & the Deadly Dance, Agatha Raisin & the Love from Hell, and Agatha Raisin & the Pig That Turned. Stay tuned for updates.
__________________

Add your comments on our Facebook and Twitter pages.
Share this post/page.

Outbound links on this page include non-affiliate links and affiliate links; the latter allows us to earn income for qualifying purchases and actions made through the links.
Agatha Raisin & the Haunted House: Series 3 Opener Is a Delightful Mystery Story