From the creator of the hit Irish drama Love/Hate comes Taken Down, the mystery-crime drama that premieres tomorrow in the US and Canada.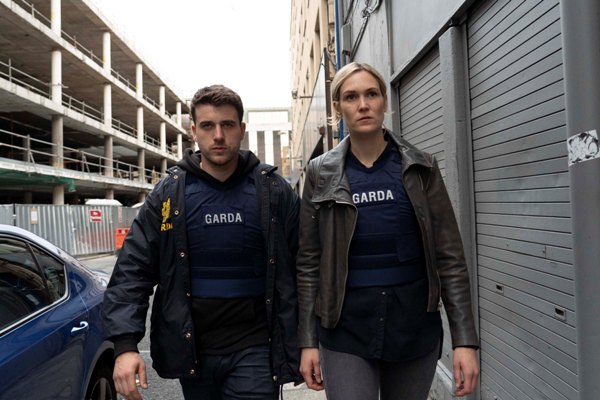 Set in Dublin, Taken Down revolves around the investigation into the murder of Esme, a teen-aged Nigerian girl whose lifeless body was found at a bus stop behind a Direct Provision Center (DPC).
DPCs are where asylum seekers are housed while they wait for their asylum applications to go through the system. Wayne (Brian Gleeson, Rebellion) is the (skeevy) manager of this particular DPC, where asylum seeker Abeni Bankole (César Awards nominee Aïssa Maïga, Bamako) has been living with her two sons since they arrived in Ireland from Nigeria eight years ago.
The proximity of the DPC to the bus stop leads the Garda there for their inquiries. On the case are Inspector Jen Rooney (Lynn Rafferty, Love/Hate), Fitzer (Sean Fox, Rebellion), Niamh (Orla Fitzgerald, The Young Offenders), and Macken (Gavin O'Connor, Single-Handed).
During the investigation, Wayne discovers something about Esme and another resident, and shares with the detectives that another girl, Flora — who's from the same city in Nigeria as Esme — hasn't returned to the DPC. In two days.
Now the Gardaí must find out if Flora's disappearance is related to Esme's murder. If so — assuming Flora is still alive — they must find her before she can become another homicide victim.
Before they can, though, the cops must deal with the death of another DPC resident.
Created and co-written by Stuart Carolan along with novelist Jo Spain, the six-episode drama costars newcomers Aaron Edo and Seán Edo, Slimane Dazi (Braquo), Marlene Madenge (Waterloo Road), Cillian O'Sullivan (6Degrees), Carl Shaaban (Vikings), Phina Oruche (Hollyoaks), Jimmy Smallhorne (Clean Break), and Barry Ward (Britannia).
Taken Down premieres in the US and Canada tomorrow, Monday, September 16, exclusively on Acorn TV and its digital channels, including Acorn TV on Amazon.
__________________

Add your comments on our Facebook and Twitter pages.
Share this post/page.





Outbound links on this page include non-affiliate links and affiliate links; the latter allows us to earn income for qualifying purchases and actions made through the links.

Taken Down: Irish Mystery-Crime Drama Set to Debut in the US & Canada