The dedicated channels for Doctor Who Classic and Antiques Roadshow UK are now live on Pluto TV in the US, streaming episodes 24/7 and for free.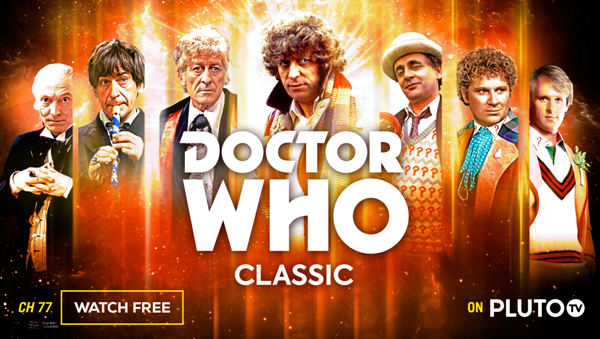 Following the debut of its Midsomer Murders channel back in May, Pluto TV launched its free Doctor Who Classic channel and Antiques Roadshow UK channel yesterday.
Located on channel 77 on the Pluto TV dial, the Doctor Who Classic channel will screen more than 200 episodes of the global sci-fi hit, including "The Dalek Invasion Of Earth" starring William Hartnell as the First Doctor; "Planet of the Spiders" and "Terror of the Autons" starring Jon Pertwee as the Third Doctor; "The Deadly Assassin," "The Ark in Space" and "The Robots of Death" starring Tom Baker as the Fourth Doctor; and "Earthshock" and "The Caves of Androzani" starring Peter Davison as the Fifth Doctor. Stories starring Patrick Troughton as the Second Doctor, Colin Baker as the Sixth Doctor, and Sylvester McCoy as the Seventh Doctor will also screen on the channel.
(Note that the stories are not being shown in chronological order. I finished watching the last episode of "Planet of Evil" from Classic Season 13 a little while ago, and now the first one for "City of Death," from Season 17, is on.)
Next to the Classic Doctor Who channel, on channel 78, is the Antiques Roadshow UK channel, which will include more than 300 of the series' is-it-trash-or-treasure episodes. New episodes will be added each quarter.
Go watch you some! 🙂
__________________

Add your comments on our Facebook and Twitter pages.
Share this post/page.

Doctor Who Classic & Antiques Roadshow UK Channels Are Now Live on Pluto TV