Created, written, and co-directed by Sally Wainwright (Happy Valley, Last Tango in Halifax), Gentleman Jack is another of the award winner's must-watch series.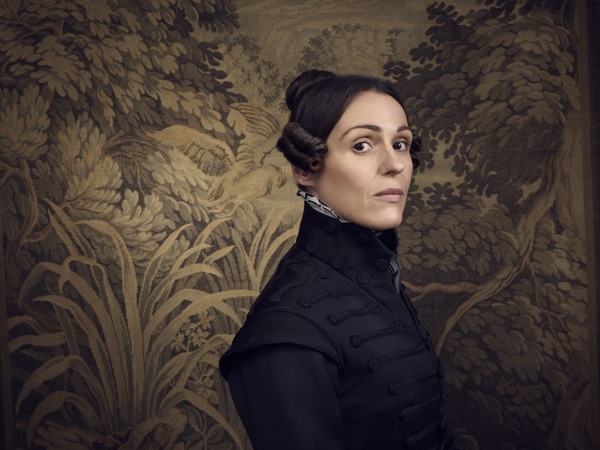 I don't recall the last time, if ever, I described an historical drama as fun, but fun is what I experienced in watching the first episode of Gentleman Jack.
The eight-part series reunites Wainwright with BAFTA winner Suranne Jones (Doctor Foster, Save Me), who played one of the two leads in her detective drama Scott & Bailey.
Here Jones plays Anne Lister, the real-life English landowner whose diaries — which contain the most intimate details of her life in millions of words, nearly a million of which were in code — serve as the series' source material.
Set in 1832, the drama follows Lister upon her return to Halifax, West Yorkshire, and to her ancestral home of Shibden Hall. She arrives on a carriage that she herself drove (like a bat out of hell, I might add) soon after a hit-and-run accident on Shibden land caused severe injury to a child. Also caught in the chaos of said accident are shy heiress Ann Walker (Sophie Rundle, Peaky Blinders) and her Aunt Caroline (Stephanie Cole, Doc Martin), who live on a neighboring estate.
Lister hadn't intended to come back to Halifax, but her plan to live happily ever after with aristocrat Vere Hobart (Jodhi May, The Last of the Mohicans), with whom Anne had "set up home" in Hastings, went sideways when Vere decided to accept a marriage proposal. From a man.
Shibden Hall was bequeathed to Anne by her late uncle, and it is the home of her elderly Aunt Anne (Gemma Jones, Marvellous), her aged, near-deaf father Jeremy (Timothy West, Bleak House), and long-suffering sister Marian (Gemma Whelan, Game of Thrones). The place is more shabby than chic now, so the younger Anne sets about to transform the estate.
However, she changes business strategies after a fateful conversation, during which she learns her land is rich in coal, even though the mines have been long closed.
And after visiting with the Walkers, Anne Lister shifts her amorous attentions from Vere to Ann Walker, her new prospective wife.
Suited and booted from head to toe in black, Suranne Jones gives a rousing performance as Anne Lister, a charming woman called 'Gentleman Jack' (disparagingly and not) by Halifax residents, who marched to the beat of her own drum and turned 19th-century societal norms on their heads by doing things that were squarely in the domain of men — from wearing a top hat and collecting rent, to having intimate, sexual relationships with women.
Jones imbues the character with wit and wisdom, and a bit of whimsy when she, as Lister, breaks the fourth wall. And I say all this after just one episode, so I can't wait to see the rest.
The series features Katherine Kelly (Strike Back) as Elizabeth Sutherland, Ann Walker's sister; Sofie Gråbøl (Fortitude) as Queen Marie of Denmark; Peter Davison (Doctor Who) as William Priestley, Ann Walker's cousin; Amelia Bullmore (Scott & Bailey) as Eliza Priestley, William Priestley's wife; Vincent Franklin (Cucumber) as Christopher Rawson, a businessman and fierce rival to Anne Lister; Shaun Dooley (Gunpowder) as Jeremiah, Christopher's brother and business partner; Joe Armstrong (Happy Valley) as Samuel Washington; Rosie Cavaliero (Unforgotten) as Elizabeth Cordingley; Thomas Howes (Downton Abbey) as John Booth; Jessica Baglow (Waterloo Road) as Rachael Hemingway; and newcomers Albane Courtois as Eugénie Pierre and Ben Hunter as Joseph Booth.
Gentleman Jack continues with its second episode on Monday, April 29, at 10 PM ET, on HBO, as well as HBO GO, HBO NOW and the HBO channel on Amazon, in the US. (Note that some episodes start at 10:05 PM.)
The series will air in the UK on BBC One starting in May 2019 (date to be announced).
__________________

Add your comments on our Facebook and Twitter pages.
Share this post/page.

Gentleman Jack: Historical Drama Starring Suranne Jones Is Fabulous