Production has started on the second and final season of Liar, which morphs from psychological thriller into mystery.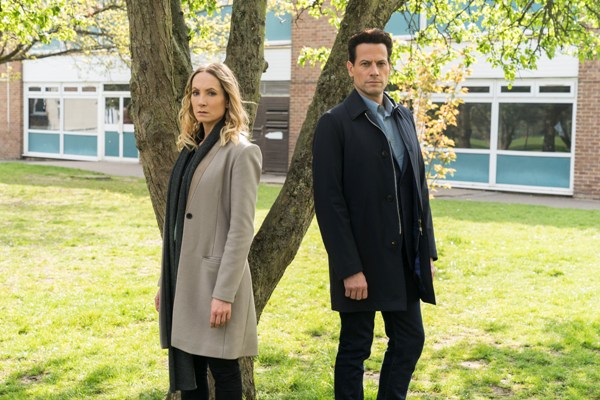 Spoilers follows for folks who haven't seen the first season of Liar. If that's you, my suggestion is to go watch Season 1, then come back here for the news about Season 2.
As a refresher, Liar stars Joanne Froggatt (Downton Abbey, Dark Angel) and Ioan Gruffudd (Harrow, Forever) as single teacher Laura Nielson and widowed surgeon Andrew Earlham. After a date, she accuses him of rape, he proclaims his innocence, and the fallout is brutal on both sides. Season 1 is available for streaming at Sundance Now, the Sundance Now channel on Amazon, and Amazon Video, and via digital download at iTunes.
Now on to the Season 2 news.
Since that what-the-what! Season 1 finale, viewers have been asking one question. "Who killed Andrew Earlham?"
Season 2 will let us know.
It picks up three weeks after an arrest warrant was issued for Andrew Earlham for the sexual assault of 19 women. When his body is found in the Kent marshes, DI Renton (Katherine Kelly, Cheat, Mr Selfridge) and DS Rory Maxwell are tasked with uncovering clues about Andrew's past and unpacking the events of the three crucial weeks leading up to his murder.
In addition to Katherine Kelly, Howard Charles (The Widow, The Musketeers) joins the cast as Carl Peterson, as does Amy Nuttall (Downton Abbey, New Tricks) as Winnie Peterson.
The new six-episode season is written by Harry and Jack Williams (The Missing, Fleabag), produced by James Dean (Living the Dream), and directed by James Strong (Broadchurch) and Chris Sweeney (Back to Life). A co-production of Two Brothers Pictures for ITV and SundanceTV, in association with all3media international, Liar: Season 2 is executive produced by Harry and Jack Williams, Christopher Aird, and James Strong.
Stay tuned for updates.
__________________

Add your comments on our Facebook and Twitter pages.
Share this post/page.

Liar: Production Begins on Season 2 of Hit Brit Thriller