Get ready for your wanderlust to be kicked into high gear, as Amazing Hotels: Life Beyond the Lobby makes its stateside debut this evening.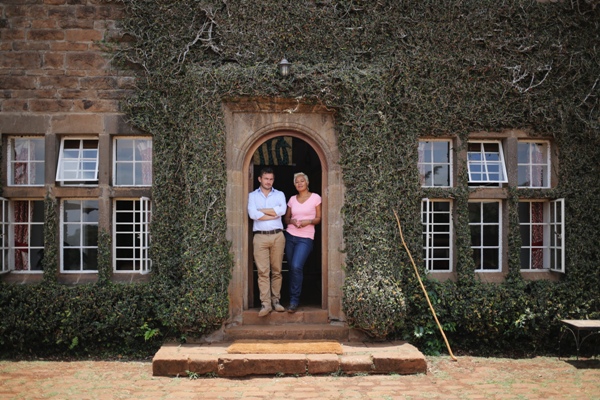 Presented by television host and writer Giles Coren (How to Eat Out) and chef and restaurateur Monica Galetti (Monica's Kitchen: Exciting Home Cooking for All Occasions), Amazing Hotels: Life Beyond the Lobby follows the pair as they travel across the globe to some of the most awesome hotels on the planet.
In addition to giving viewers a glimpse of hotel areas that are rarely, if ever, seen by regular folk, Monica and Giles spend time with hotel staff to learn about their work, the establishment, its impact and more — and then take on some of the staffing duties.
The screener provided by Ovation TV was for the first episode, which finds Giles and Monica at the Marina Bay Sands Hotel in Singapore. (If you've seen the film Crazy Rich Asians, this is that hotel.)
The Marina Bay Sands Hotel is impressive inside and outside, from top to bottom. Its infinity pool is the longest elevated one in the world, its rooms accommodate up to 1 million guests per year, and the property boasts visitor figures of up to 40 million per year.
The size of the hotel staff is also larger than some towns — 9,500 people work here. During their visit, Monica puts her chef skills to work for an eight-course banquet with 1,400 VIP guests, and Giles witnesses the ultra fine points of being a butler while helping to prepare a swanky suite for a special VIP from China. He also discovers what it takes to meet the standards of the valet parking director (right down to his zipper), while Monica learns how to fold a towel into a work of art. Speaking of towels, Giles and Monica's final gig at the hotel has them taking on different aspects of handling the thousands at the infinity pool.
The remaining Season 1 episodes find Monica and Giles visiting Mashpi Lodge in Ecuador, Giraffe Manor in Kenya, Royal Mansour Marrakech in Morocco, Fogo Island Inn in Canada, and Icehotel in Sweden; in Season 2 they travel to The Brando in French Polynesia, Anantara Al Jabal Al Akhdar Resort in Oman, Grand Resort Bad Ragaz in Switzerland, Ashford Castle in Ireland, The Silo in South Africa, and Hacienda Vira Vira in Chile, plus Kulm Hotel in St. Moritz, Switzerland, in the Christmas special.
Amazing Hotels: Life Beyond The Lobby debuts in the US this evening, Thursday, April 18, at 10 PM ET, on linear channel Ovation TV. Episodes will also be available on Ovation NOW, the on-demand streaming service. And starting August 2019, the series will be on Journy, Ovation's travel-entertainment AVOD streaming channel and app.
__________________

Add your comments on our Facebook and Twitter pages.
Share this post/page.

Amazing Hotels: Life Beyond the Lobby: British Travel Series Premieres in the US