An indefensible crime. Parents living a nightmare. The disintegration of their relationship. This is the stuff of The Cry, a taut psychological drama about to premiere in the US.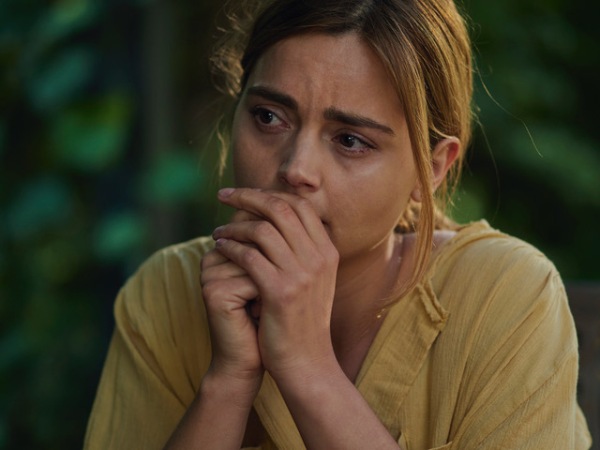 Adapted from the best-selling novel of the same name by Helen FitzGerald, this four-part drama stars Jenna Coleman (Victoria, Doctor Who) and Ewen Leslie (Safe Harbour, Top of the Lake: China Girl) as Joanna and Alistair, the parents of a four-month-old baby whose lives become a living hell while on a trip to Australia.
The series starts in medias res with flashbacks of Joanna at different points in the narrative — arriving at court, meeting Alistair for the first time, being fingerprinted at the police station, being questioned by the court-appointed psychiatrist.
Before any of this happened, Joanna was a primary school teacher, Alistair was a spin doctor for a politician, and together they were the parents of baby Noah in Scotland.
Alistair is also the father of teenager Chloe (Markella Kavenagh, Picnic at Hanging Rock), who lives with her mum and his ex-wife, Alexandra (Asher Keddie, Offspring), in Alex's native Australia. The point of his trip Down Under with Joanna is to visit family, introduce them to Noah, and secure custody of Chloe and bring her back to Scotland.
Instead, the couple are being questioned by the police, hounded by reporters, and targeted on social media.
Because Noah disappeared without a trace just hours after Alistair and Joanna landed at the airport in Melbourne.
It's an unspeakable tragedy, a trauma that Joanna and Alistair struggle to deal with under the glare of public scrutiny, while the lack of progress in the police investigation only adds more stress to their already pain-filled lives. And so, their relationship begins to fall apart.
Only things aren't what they seem.
Costars in the series include Moyo Akandé (Taggart), Shareena Clanton (Wentworth), Kate Dickie (Game of Thrones), Alex Dimitriades (The Principal), Nicholas Farrell (Torchwood), Stella Gonet (The House of Eliott), Sophie Kennedy Clark (Philomena), Shauna Macdonald (MI-5), and Anneika Rose (Line of Duty)
The Cry, a Sundance Now Exclusive, premieres in the US tomorrow, Thursday, November 8, only on Sundance Now.
__________________


Add your comments on our Facebook and Twitter pages.
Share this post/page.

The Cry: Intriguing Psychological Drama Starring Jenna Coleman Premiering in the US