Cardinal, the award-winning Canadian crime thriller, returns to the US with its second season, just in time for weekend binge-watching.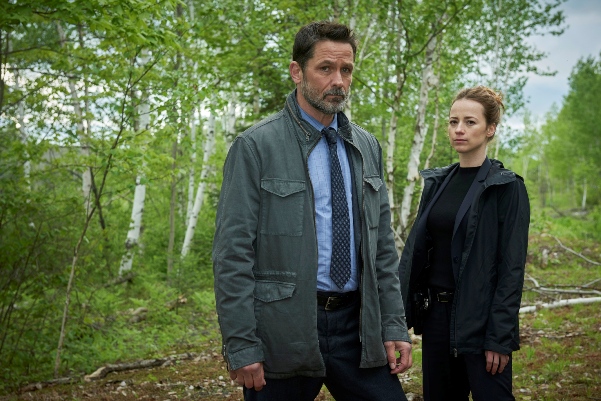 Canadian is the new noir.
At least when it comes to Cardinal, one of the best recent mystery-crime dramas from north of the border and one of my favorite new shows of 2017.
Adapted from the "John Cardinal" series of mystery novels by Canadian author Giles Blunt, Cardinal is a dark and suspenseful crime thriller starring Billy Campbell (Modus, Helix, The Killing) as the eponymous cop, Detective John Cardinal, and Karine Vanasse (Blue Moon, Revenge, 30 Vies) as Detective Lise Delorme, Cardinal's French-Canadian partner.
The show's second season, Cardinal: Blackfly Season, is based on the third novel in Blunt's series. It opens by the water and in the surrounding woods of Algonquin Bay, a small (fictional) town situated between two lakes in Northern Ontario. Here a red-haired young woman is trying to get away, running for her life from an unseen pursuer, only to be shot in the head and collapse in the creek.
Miraculously, she survives. As an amnesiac with the bullet lodged in her brain.
Enter Cardinal and Delorme, who lead the investigation into the attempted murder of the Jane Doe Delorme prefers calling "Red," since the victim is still alive.
Although the surgery to remove the bullet is successful, Red still can't remember who she is, who her would-be killer is, and why that person wants her dead.
Then the detectives have a lead in the case.
Elsewhere in Algonquin Bay, there is an actual homicide victim, and the person who shot Red is looking to finish the job.
And back at the hospital in Toronto, Red is having memory flashes…
If Hulu had provided screeners for the entirety of Cardinal's second season, I would have binged all six episodes in one sitting. But watching the first two was plenty to get me revved up to finish Season 2 as soon as it goes live on the SVOD streaming platform.
The narrative, layered and complex, alternates between action and tension — in the crime story itself as well as the secondary threads related to Cardinal's fragile relationship with his manic-depressive wife Catherine (Deborah Hay, Saving Hope), the usually stoic Delorme and her seemingly growing attraction to Cardinal, and the reappearance of the smarmy Sergeant Musgrave (David Richmond-Peck, Dark Matter) in Delorme's life. It's riveting stuff, this.
Reprising their roles in Season 2 are Glen Gould (Mohawk Girls, Dominion Creek) as Detective Jerry Commanda, Kristen Thomson (Flashpoint) as Staff Sergeant Noelle Dyson, James Downing (Fargo) as Detective McLeod, and Alanna Bale (Prime Radicals) as Cardinal's daughter Kelly.
Featuring in the new season are Alex Paxton-Beesley (Pure), Kevin Hanchard (Orphan Black), Jonathan Keltz (Reign), Dan Petronijevic (19-2), Bruce Ramsay (19-2), Kathryn Alexandre (Orphan Black), Brock Morgan (Murdoch Mysteries), and Nicolette Pearse (Anne with an E).
Cardinal: Season 2, a Hulu Exclusive series, premieres in the US on Friday, February 16, only on Hulu, where Season 1 is currently streaming.
Production on Season 3 of Cardinal, with elements from the novels By the Time You Read This and Crime Machine, began back in October. Stay tuned for updates about when it will arrive stateside.
__________________

Add your comments on our Facebook and Twitter pages.
Share this post/page.

Cardinal: Binge-Worthy Second Season of Canadian Noir Crime Thriller Premiering on Hulu