Get ready for Britannia, the action-packed costume drama about the Roman invasion of Britain, because it's premiering soon on both sides of the pond.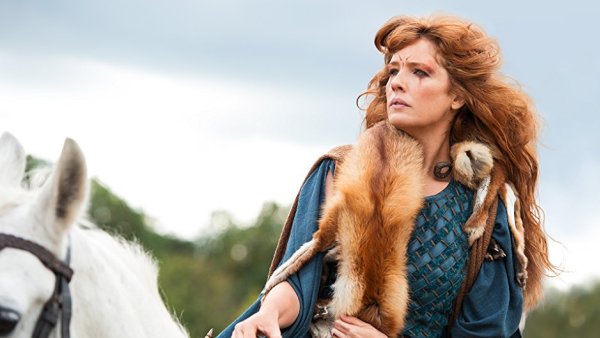 There are plenty of eras and events in the history of Britain that make for compelling, epic television — from Game of Thrones (based loosely on the Wars of the Roses) to The Last Kingdom (about Britain in the 9th and 10th centuries).
Now comes Britannia, which follows the 43 AD invasion of Britain by the Roman Imperial Army and the resistance against it by Celtic tribes and Druids.
Headlining the cast are David Morrissey (The Walking Dead, The Missing) and Kelly Reilly (True Detective, Above Suspicion). Morrissey portrays Aulus Plautius (an actual historical figure), a fearless, ruthless, and shrewd Roman general charged by Emperor Claudius to conquer Britannia, a mythical land at the far edge of the Roman Empire. Reilly costars as Kerra, the bitter and headstrong daughter of the King of the Cantii, who is a key (fictional) figure in the fight against the invaders.
Playing Kerra's archrival, the fierce and unforgiving Queen Antedia of the Regni tribe, is Zoë Wanamaker (Girlfriends), and Mackenzie Crook (Detectorists) portrays Veran, a powerful Druid who is said to be 10,000 years old, to know the secrets of this world and the next, and to speak for the gods.
Among the international cast are Joe Armstrong (The Village), Fortunato Cerlino (Gomorrah), Liana Cornell (East of Everything), Nikolaj Lie Kaas (Department Q), Ian McDiarmid (Star Wars), Julian Rhind-Tutt (Banished), Annabel Scholey (Medici: Masters of Florence), Hugo Speer (The Musketeers), Barry Ward (The Fall), Stanley Weber (Outlander), and Eleanor Worthington-Cox (The Enfield Haunting).
Produced by Vertigo Films (Bronson, Monsters) in association with Neal Street Productions (Penny Dreadful, Call the Midwife), Britannia was created by Jez Butterworth (Spectre), Tom Butterworth (Tin Star), and James Richardson (Monsters).
All nine episodes will launch tomorrow, Thursday, January 18th, on Sky Atlantic and NOW TV in the UK. In the US, Britannia premieres Friday, January 26th, as an Prime Original Series, exclusively on Amazon Prime.
__________________

Add your comments on our Facebook and Twitter pages.
Share this post/page.

Britannia: Historical-Fantasy Drama Premiering on Sky Atlantic and Prime Video