The team behind Miss Fisher's Murder Mysteries created Newton's Law, a new legal drama from Down Under that's about to premiere in the US.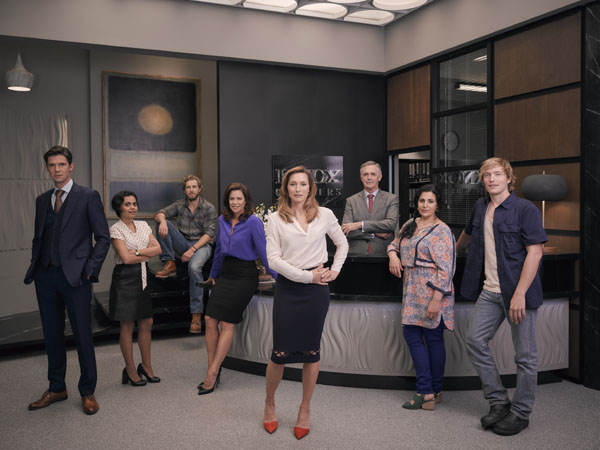 The titular character in Newton's Law — "the Upstairs, Downstairs' of legal dramas" — is Josephine Newton (Claudia Karvan, Jack Irish, Love My Way, The Secret Life of Us), a solicitor with a suburban law practice, a 1976 Chrysler Charger, and a teen-aged daughter and mostly-absent husband (which explains in part why the couple is separated).
We meet Newton as she's on her way to the hearing for a client — a pyromaniac with a major prison phobia who's accused of arson. Unfortunately for her and the defendant, the substitute barrister becomes incapacitated in court and the judge orders the accused be remanded to jail. Well, he escapes before he can be cuffed.
Fast forward: a fire, most likely set by you know who, engulfs the Newton's Law office.
It would be a complete and utter professional and financial disaster for Josephine if it weren't for the offer she gets from Lewis Hughes (Toby Schmitz, Crownies, Black Sails, Underbelly Files: The Man Who Got Away), a former classmate and not-so-secret admirer who led the opposing team in the arson case. He wants her to join him at the high-powered Knox Chambers, and as it happens there's an opening.
Josephine only realizes how this opening came about on her first day at Knox: one of their barristers died from a 15-story fall, the presumed victim of a murder allegedly perpetrated by the godson of Eric Whitley (Andrew McFarlane, The Code, Cleverman, Glitch), the head of Knox Chambers. It seems like a no-win situation, given the witness's statement; however, Josephine uncovers something that sheds new light on the case.
Meanwhile, her team members from Newton's Law — solicitor Helena Chatterjee (Georgina Naidu, Mr. & Mrs. Murder, Offspring, At Home with Julia) and guy Friday (and petty criminal) Johnny Allbright (Sean Keenan, Glitch, Puberty Blues, Dance Academy) — left the legal profession after the fire… but return when Josephine comes up with the idea that creates the upstairs, downstairs situation.
Created and written by the team of Deborah Cox and Fiona Eagger (Miss Fisher's Murder Mysteries, The Gods of Wheat Street, East of Everything), the eight-episode series features Brett Tucker (The Americans, Spartacus: War of the Damned), Miranda Tapsell (Love Child, The Sapphires), and Jane Hall (Neighbours, The Starter Wife).
Newton's Law premieres in the US with Episodes 1 & 2 tomorrow, Monday, September 11th, exclusively on Acorn TV.
__________________

Add your comments on our Facebook, Google+, and Twitter pages.
Share this post/page.

Newton's Law: Australian Legal Drama Premieres in the US