Game of Thrones' Natalie Dormer will return to telly in the new Australian drama Picnic at Hanging Rock, which will screen in the US under the Amazon Original Series banner.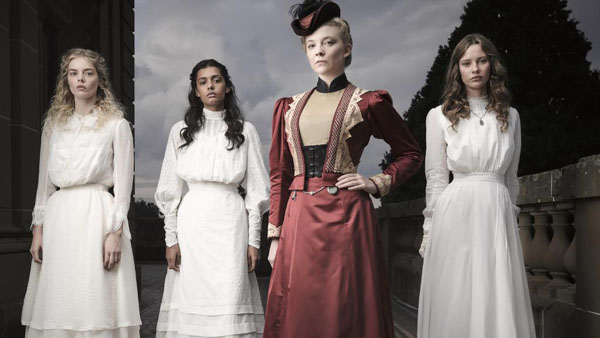 Picnic at Hanging Rock is adapted from Joan Lindsay's novel of the same name, which the Australian Broadcasting Corporation named as one of the "10 Aussie Books to Read Before You Die."
The story concerns the mysterious disappearances of three schoolgirls and one teacher on Valentine's Day in 1900 Victoria, Australia, and the subsequent investigation and impact on the school's other students and staff, their families, and the town in the aftermath.
Natalie Dormer (The Tudors, Silk) stars in the six-part drama as Mrs. Hester Appleyard, the English headmistress of Appleyard College.
The cast includes Lola Bessis (France KBEK) as Mademoiselle Dianne de Poitiers, mistress of French Conversation, Music and Dance; Yael Stone (Deep Water) as Miss Dora Lumley, mistress of Deportment and Bible Studies; Anna McGahan (The Doctor Blake Mysteries) as Miss Greta McCraw, mistress of Geography and Mathematics; and Sibylla Budd (Winners & Losers) as Mrs. Valange, mistress of Art and Literature.
Playing the students are Lily Sullivan (Camp) as Miranda Reid, Madeleine Madden (The Code) as Marion Quade, Samara Weaving (Home and Away) as Irma Leopold, Ruby Rees (Miss Fisher's Murder Mysteries) as Edith Horton, and Inez Curro (newcomer) as Sara Waybourne.
Written by Alice Addison (The Principal) and Beatrix Christian (White Collar Blue), and directed by Larysa Kondracki (Rogue), Michael Rymer (Hannibal), and Amanda Brotchie (Agony), Picnic at Hanging Rock will be shown on Foxtel in Australia and Amazon Prime Video in 2018. FremantleMedia International is handling the distribution.
The series is the second filmed adaptation of Picnic at Hanging Rock. Peter Weir (The Year of Living Dangerously, Gallipoli) directed the 1975 movie starring Rachel Roberts (Murder on the Orient Express) as Mrs. Appleyard.
__________________
Add your comments on our Facebook and Twitter pages.

Share this post/page.

TV Adaptation of Picnic at Hanging Rock Starring Natalie Dormer to Be Amazon Original Series